12 Main Financial Industry Trends and Their Impact

Despite a challenging year for the market overall, particularly for high-growth companies, the fintech industry remains a promising sector with significant growth potential. While the Fintech Index declined by 61.57% in 2022, it still outperformed legacy financial institutions and the S&P 500 since its inception in 2016, with a 338.88% gain. Moreover, modern fintech companies represent $378 billion in market cap compared to incumbents' $4.2 trillion, highlighting the opportunities ahead for fintech.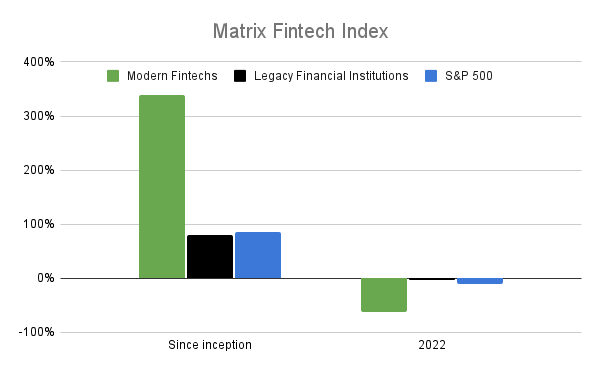 In this context, we'll explore the latest trends in finance to transform financial services early in the year. From the rise of blockchain technology and cryptocurrency to environmental, social, and governance (ESG) investing and cybersecurity, these financial trends can improve how we manage our money, invest, and access financial services. So join us as we dive deeply into the current trends in finance industry in 2023.
12 Top Financial Trends
Digital banking and neobanks
Digital banking trends continue to grow, with many banks transitioning to online services without the need for physical bank representatives. This model offers significant advantages for both businesses and customers.
The client can leave the line, come to the bank, and sign documents. It can pay bills quickly, have convenient expense management, a balanced view, and real-time analytics. Transactions take place online and automatically. As a result, banks can save on office and staff costs. Chatbots, mobile POS terminals, and underwriting models allow for the quickly processing of user requests.
Digital banks are often the online arm of a traditional bank. Neobanks are entirely digital and independent. Users around the world celebrate the convenience of neobanks. They are primarily related to a personalized customer experience. You can see your balance in real-time, keeping an efficient record of personal funds without monthly fees.
While maintaining a competitive edge, some traditional banks partner with various technology platforms to deliver more innovative services. The future belongs to digital banks.
Big data management
Today's finance companies rely heavily on big data to provide a more personalized experience for their customers. As a result, data management trends in financial services are focused on optimizing the processing and analysis of large amounts of data to identify trends and potential risks. Financial organizations are the primary source of this data, which includes loan applications, debit cards, deposits, brokerage services, tax documents, bank statements, and internal reports.
Fintech developers are at the forefront of improving data processing by creating applications that can quickly and accurately extract information from any document or storage, analyze it, and present it in the required format intuitively. Algorithms can promptly identify and sort different data types, but they can sometimes be slow when faced with difficult-to-read documents. Thanks to new fintech applications that accurately recognize images, media files, or text, businesses now have a reliable tool for analyzing current activities, predicting needs and risks, and making well-thought-out management decisions. The financial industry trends suggest efficient data management will be critical for companies to remain competitive.
RegTech
Regulatory technologies (RegTech) are revolutionizing the financial industry by simplifying and speeding up compliance work. RegTech is an emerging trend in financial services that offers innovative solutions for regulatory reporting, transaction monitoring, risk management, identity management, and compliance software. With RegTech applications, financial institutions can reduce administrative costs, protect customers, and ensure financial stability.
One of the benefits of RegTech is that it provides speed, flexibility, scalability, and end-to-end analytics tools. With automation powered by big data and machine learning, RegTech can handle vast regulatory requirements every second for each business line. In addition, these automated solutions are programmed to continually explore and search for patterns found in large lakes of historical data. Thus, regulatory technologies make it easier to identify problem cases or uncover fraud.
RegTech is one of the new financial technologies that is transforming the financial industry. It is an example of the finance trends shaping the industry as financial institutions seek to leverage technology to reduce costs, improve efficiency and compliance, and enhance the customer experience. By adopting RegTech solutions, banks and financial institutions can stay ahead of financial services industry trends and benefit from their advantages.
Cloud solutions
One of the current trends in financial services is the accelerated transition to cloud infrastructure.
Cloud-based software is attractive to the fintech industry for its easy scalability and flexibility. For example, you can migrate a digital product to another platform without visible signs for the user.
The shift to distributed computing also shapes the digital workspace, reducing corporate infrastructure costs. But there is also a bottleneck in deploying cloud-based solutions.
Cybersecurity
Financial services trends continue to prioritize cybersecurity as one of the main directions for introducing new technical solutions.
Among the main areas of work on cybersecurity for fintech companies are the following:
Transaction security, including transaction intelligence risk control and secure identity authentication.
Data security management, including the protection of personal data.
Cybersecurity, including security and technical security.
Fintech companies are working on homeland security and threat response strategies and raising employee and customer awareness. Fintech companies are desirable to cyberattacks. A recent study shows that banks invest about 70% of their funds in developing and implementing security strategies.
RPA
One of the financial services technology trends that is gaining traction is the use of Robotic Process Automation (RPA).
RPA is a technology that uses software robots to automate tasks usually performed by humans. Implementing RPA allows you to reduce the cost of operational processes and improve the efficiency of the work organization.
RPA technology is most commonly used to automate security checks, customer registration, account maintenance and closure, credit card, and mortgage processing.
Thanks to RPA, you can reduce costs on financial personnel, optimize processes and eliminate the human factor.
Robo-advisors, another emerging trend in financial services, rely heavily on automation technology. These online platforms use algorithms to provide customers with financial advice and sustainable investing services. Robo-advisors are gaining popularity due to their low fees, accessibility, and convenience.
AI
As we move into 2023, we continue to see the impact of the pandemic on the financial industry as digitalization trends accelerate worldwide. It has prompted a focus on such financial trends as using AI and analytics as essential tools for successful digital banks. Traditional banks are now recognizing the importance of these technologies and beginning to adopt them in their operations.
One of the key areas where AI and analytics are being utilized is in collecting and analyzing customer data. This data is helping banks better understand user spending habits and preferences, which in turn allows for creating more personalized banking offers. As we look to the future, the need for this kind of personalization is only expected to increase as customers continue to demand tailored services that meet their specific needs and preferences.
BNPL
One of the significant financial industry trends in recent years is the growth of Buy Now, Pay Later (BNPL) payment models.
86% of millennials want to shop in installments. This number is growing every year.
As a result, the popularity of services is growing, allowing you to buy now and pay for a product/service later. Several unicorns exist, such as Affirm in the States and Klarna in Europe.
It will become essential for payment systems to create technological ecosystems to implement an installment system for all payment methods.
So, if you are looking forward to modernizing your FinTech company with the latest trends in the market, including the future of ERP, now is the time to act!
Cryptocurrency Market
Cryptocurrencies like Bitcoin, Ethereum, and Litecoin have gained popularity as a decentralized alternative to traditional payment methods. These digital assets use blockchain technology to enable secure and anonymous transactions between users without the need for intermediaries like banks. However, their volatile nature has raised concerns about their long-term stability and suitability for mainstream adoption.
The rise of the cryptocurrency market has also led to the emergence of stablecoins. Digital currencies are pegged to a stable asset, such as gold or the U.S. dollar. It makes them less volatile than other cryptocurrencies, and potentially more attractive to investors and businesses. Moreover, the cryptocurrency market has expanded to include other digital assets like non-fungible tokens (NFTs), unique digital assets verified on a blockchain. These can be anything from digital art to music, and their unique nature makes them valuable to collectors and investors.
Decentralized Finance (DeFi)
One of the most significant financial services industry trends is decentralized finance (DeFi), a blockchain-based financial system enabling users to access financial services without intermediaries like banks. DeFi allows users to lend, borrow, and trade assets in a decentralized manner, making it a potentially disruptive force in the banking industry. This system operates through smart contracts, self-executing contracts verified and recorded on blockchain technology. DeFi applications include decentralized exchanges, lending platforms, and prediction markets.
However, like other financial services technology trends, DeFi has its challenges. It is still a relatively new and untested technology, so risks are still associated with its use. Moreover, the high level of automation and lack of intermediaries means that there is a greater need for users to be responsible for their financial security.
Sustainable Investing
Sustainable investing, also known as socially responsible investing (SRI), is one of the current trends in finance. When making investment decisions, this approach considers environmental, social, and governance (ESG) investing factors alongside traditional financial metrics. Sustainable investing aims to generate positive social and environmental outcomes alongside financial returns. SRI investments can include renewable energy, green bonds, and companies with solid records on diversity, equality, and labor practices.
Peer-to-Peer Lending
In recent years, Peer-to-peer (P2P) lending platforms have become an alternative to traditional banking loans. P2P lending platforms connect borrowers directly with individual investors, cutting out banks as intermediaries. These banking technology trends match borrowers with investors willing to lend them money, often at lower interest rates than traditional banks.
P2P lending offers benefits to both borrowers and investors. Borrowers can access credit at lower interest rates, and investors can earn higher returns than they would with traditional savings accounts or other low-risk investments. However, like any investment, P2P lending carries risks, and investors must carefully consider the creditworthiness of borrowers and the potential for default.
Impact of Emerging Finance Trends
The world of finance is dynamic and ever-changing, with the latest trends in finance constantly emerging. Staying abreast of these developments is essential for individuals and businesses to make informed financial decisions.
Such financial services trends are the increasing use of technology to streamline financial transactions and services. From micro-investing to contactless payments, digital platforms, and applications have made financial transactions faster, more efficient, and more accessible. Additionally, blockchain technology in finance is becoming more widespread, enabling more secure and transparent transactions.
Another finance trends are the growing importance of socially responsible and sustainable investing. More and more investors seek to align their investments with their values, focusing on companies prioritizing environmental, social, and governance (ESG) investing issues. The increasing recognition of the importance of sustainability and corporate social responsibility partly drives these trends in finance industry.
Finally, the rise of fintech companies is transforming the financial services industry, offering innovative solutions to traditional banking and investing. These companies leverage technology to provide personalized financial services, such as robo-advisors and central bank digital currencies (CBDC) platforms. Finance trends are driven by technology, social and environmental awareness, and innovative solutions. Staying informed and adaptable to these trends can help individuals and businesses make better financial decisions and achieve their goals.
Best Practices for Staying Ahead of Finance Trends
Staying ahead of financial trends is essential for making informed financial decisions. Here are some best practices for staying up-to-date on the latest developments:
Follow Industry Experts and Thought Leaders
Following industry experts and thought leaders is an excellent way to stay updated on emerging trends in financial services. Also, consider subscribing to finance newsletters, podcasts, and blogs to get regular updates on the latest trends in finance and their potential impacts.
Attend Industry Conferences and Events
Attending finance conferences and events is another effective way to network with other professionals in the field and learn about the current trends in finance and innovations. Take advantage of these opportunities to stay ahead of the curve and meet like-minded individuals.
Engage with Fintech Companies
Fintech companies are at the forefront of innovation in finance, making them a valuable resource for insights into emerging trends and new financial technologies. Sign up for new fintech platforms and applications, and provide feedback on how they can improve to stay on top of the latest developments.
Conduct Regular Financial Check-Ups
Reviewing your business's financial health can help you identify emerging trends that might impact your financial planning. Then, use tools like financial planning apps and online calculators to stay on top of your finances, and consult with a financial advisor if needed.
Consider Investing in Emerging Trends
As emerging finance trends gain traction, consider incorporating them into your financial planning. For example, if you're interested in sustainable investing, look for opportunities to invest in ESG-focused funds or companies. By investing in emerging trends in financial services, you can stay ahead of the curve and benefit from their growth in the long run.
Consider Digicode as Your Trusted Partner for FinTech Solution
Looking to modernize your finance company? You can write me a direct message, I will tell you the ways of cooperation on technical modernization.
Digicode is a leading FinTech solution provider and custom software development company in USA. We specialize in technology modernization services and developing innovative solutions for the finance industry.
Our team of experts has extensive experience working with financial institutions, fintech startups, and businesses of all sizes to help them stay ahead of the curve. We offer various services, from custom software development to technology consulting, designed to help companies to improve their financial operations and remain competitive in a rapidly evolving industry.
One of our key strengths is our ability to develop customized financial applications tailored to our client's needs. Our financial app case portfolio contains different projects from digital wallets to trading platforms and has helped our clients improve user engagement, reduce transaction processing time, and increase efficiency.
At Digicode, we believe in providing high-quality solutions that are both innovative and practical. We work closely with our clients to understand their unique challenges and develop solutions addressing their needs. So whether you need to modernize your legacy systems or create a new financial app from scratch, we have the expertise and experience to deliver results that exceed your expectations.If you're looking for a trusted partner to help your business stay ahead of finance trends and achieve your financial goals, consider Digicode as your go-to FinTech solution provider. Our team is ready to help you navigate the complex world of finance and technology and deliver solutions that make a real difference to your bottom line.
Conclusion
In conclusion, despite the challenges faced by the market and high-growth companies, the fintech industry remains a promising sector with significant growth potential.
There are several emerging trends in the finance industry for 2023. These include digital banking and neobanks, big data management, RegTech, cloud solutions, cybersecurity, RPA, AI and analytics, BNPL payment models, the cryptocurrency market, decentralized finance (DeFi), sustainable investing, and peer-to-peer lending. These trends reflect the increasing use of technology, the importance of social and environmental responsibility, and the disruptive impact of fintech companies on traditional financial services.
To stay ahead of these finance trends, you need to follow industry experts and thought leaders, attend conferences and events, engage with fintech companies, conduct regular financial check-ups, and consider investing in emerging trends. By staying informed and adaptable, individuals and businesses can make better financial decisions and align their strategies with the evolving landscape of the finance industry.
What are finance trends?

Finance trends are the latest developments and shifts in the financial industry, including changes in financial technology, new regulations, consumer behavior, and investment opportunities.

Why is it important to stay updated on financial trends?

Staying updated on financial industry trends is crucial for businesses and individuals who want to remain competitive in the economic landscape. By keeping up with the latest developments, you can identify new investment opportunities, adapt to changes in consumer behavior, and leverage new technologies to improve your financial operations.

How is artificial intelligence being used in financial services?

Artificial intelligence is being used in financial services to improve the accuracy and speed of decision-making processes, identify potential risks, and automate routine tasks. Examples of AI in finance include fraud detection, credit scoring, and algorithmic trading.

How are these finance trends changing the financial landscape?

Financial services industry trends are changing the financial landscape by creating new opportunities and challenges for businesses and consumers. For example, the rise of fintech startups is disrupting traditional banking models, while the increasing use of blockchain technology creates new opportunities for secure and transparent transactions.

How can I integrate emerging finance trends into my financial planning?

To integrate emerging finance trends into your financial planning, you can start by researching the latest developments and identifying which trends are most relevant to your business or personal financial goals. You can also seek advice from financial professionals and leverage new technologies to streamline your financial operations and improve your investment strategies.
Related Articles