#Microsoft Software & Solutions
Is Microsoft Dataverse a Game Changer?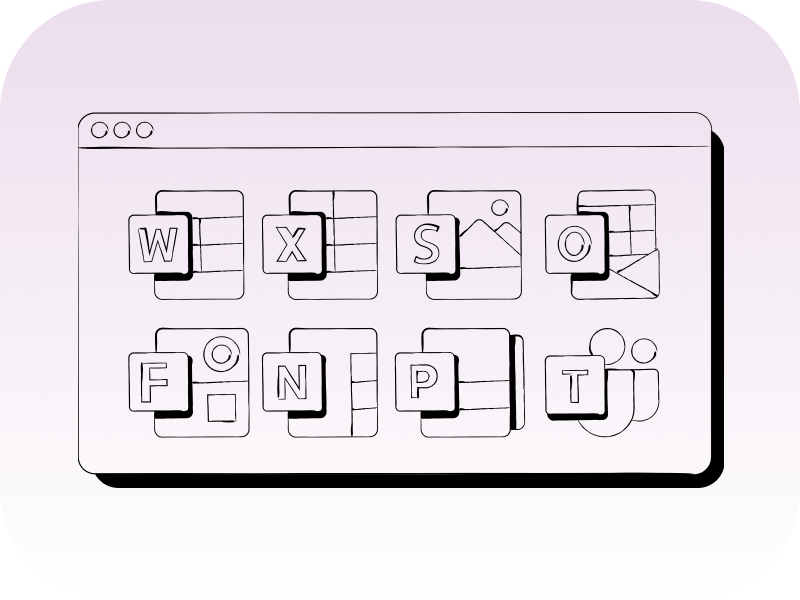 Most businesses grapple with storage and data management challenges, causing a sustained increase in volumes. With data coming from a variety of sources (CRM and ERP systems, websites, social media, business apps, and more), it's difficult, expensive, and time-consuming to create a manageable, secure, and scalable data structure. The presence of wide-ranging data types, security models, and APIs compounds the situation. It can be exhausting, especially when you are dealing with large amounts of data, often leading to overburdening your staff with numerous repetitive tasks.
Fortunately, Microsoft came up with an innovative low-code all-in-one Power Platform. With potential to democratize software development, low-code is the biggest trend in modern business tech. With its formidable array of low/no-code tools – Power Apps, Power Automate, Power BI, and Power Virtual Agents – the world leader provides companies of any size with a powerful solution with an easy to manage, scalable, secure and compliant data service at an affordable price.
Digicode consultants help bring IT and the Business together to drive sustainable impact from low-code technologies like Microsoft Power Platform.
If you are a newcomer to the Power Platform or wonder what Microsoft Dataverse is, read on. If you have been working with Dynamics CRM already, then a lot of this might be a review, but there may be some valuable notes.
What is Microsoft Dataverse?
Microsoft Dataverse (formerly Common Data Service) is a cloud-based database, a part of the Microsoft Power Platform, that can collect and combine data from the site, Office 365 and other sources in one place. The collected data can be used to create Power BI reports, mobile applications and business portals based on Power Apps, as well as run business processes through Power Automate.
Dataverse creates a structured information core with a well-thought-out process automation tool to save staff time.
This core integrates seamlessly with all other parts of the Microsoft Power Platform, as well as it can be connected with all platforms, services and systems required for the company's business processes. At the same time, all data in Dataverse will be protected by a security system.
Dataverse provides additional opportunity to use the latest developments of artificial intelligence, and start creating solutions based on it right now. This means obtaining competitive advantages based on technologies that will be applied in all areas of business and industry in the near future.
"Microsoft Dataverse is the data backbone that enables people to store their data in a scalable and secure environment dynamically. It enables [us] to look at data as a service spun up on-demand to meet ever-changing business needs"
Chris Wagner
Analytics Architech, Rockwell Automation



Why use Dataverse?
Dataverse has absorbed 15 years of experience in developing and improving Dynamics 365 databases. It is possible to work with various types of data in it, and a multi-level security system provides protection not only from unauthorized access, but also from data loss.
Security roles (access)
The main benefit is security roles. This system allows business owners to clearly delineate access to data within the Dataverse structure. It's not about only assigning a role to each user, but also restricting access to data at the level of certain areas (for example, the seller will not be able to see the contacts of companies that he doesn't maintain). For example, in SQL Server and SharePoint, there are restrictions only at the table level.
Multilevel security
Dataverse implements a mechanism to control every action in the system. Every user action in the system is recorded and noted, this functionality provides protection against data loss, and the ability to recover already lost data. Dataverse has a robust security model to protect data integrity and user privacy, and support efficient data access and collaboration.
The levels of access to data for users in the Dataverse environment can be combined:
Business unit access settings;
Role-based security model;
Security based on rows, columns and individual fields.
Standardization
In Dataverse, it is possible to create Option Sets, sets of parameters common to all objects within a single entity, to automate the data format.
For example, you can define an option set that lists different types of companies. After saving, it is written to the database and attached to the "Type" attribute. After that, when an employee fills in information of some company, the data from the option set will be displayed for this attribute.
This not only saves time for employees, but also helps to avoid conflicts associated with different names of the same parameter. For the system , these are different values, which means that manual verification and correction of the attributes will be required.
Quick setup
Dataverse contains a lot of object models that can simplify the work. For example: organizations, accounts, transactions, etc. This saves a lot of time.
Performance
With a complex security system, the solution remains fast. Microsoft constantly pays attention to speed optimization.
By using Dataverse, Digicode experts can help you to improve process speed, ensure frictionless and error-free operations, and redirect the efforts of your employees to meaningful tasks.
Integration with all Microsoft Power Platform services
Interaction with other parts of the platform allows business to build data structures of various levels of complexity. With over 300 connectors, it can be connected to virtually any data source.
Digicode will bridge the gap between separate systems, saving your company time, and money.
Custom interface
The backbone of Microsoft Dataverse is linked tables. The advantage is a simple user-friendly interface with visual constructors to modify data, such as creating relationships, attributes, dashboards, entities, and so on.
Dataverse application
Microsoft Dataverse helps to securely store and manage the business data. This is an information core that interacts with various platforms, systems, APIs, etc.
Like other parts of the Microsoft Power Platform, Dataverse has a user-friendly dashboard. Sometimes it requires coding knowledge, but for most tasks no code is needed at all, so it can be easily used not only by professional developers, but also by business experts.
Benefits of Microsoft Power Platform Dataverse
Scalable platform. Ability to create and launch thousands of applications without programming knowledge.
Platform security. Protect your data with layered security.
New opportunities. Get new automation opportunities for your business using the Microsoft Dataverse system.
Easy data management. Easily connect and manage information in Microsoft Dataverse.
Flexible data stored. Increase or decrease the amount of stored data according to your business needs.
Secure data storage. With Microsoft Dataverse, you can dynamically store and manage data in a secure environment.
How to Use Microsoft Dataverse?
As an expert of Microsoft Power Platform, Digicode provides a huge possibilities for any business combining components of the Power Platform with existing Microsoft solutions, whether that's the Office family of products or an ERP system like Dynamics 365 Business Central. Let's check the main ones.
Dataverse and Microsoft Teams
Microsoft Dataverse for Teams is a built-in, low-code data platform for Microsoft Teams that lets users build custom apps, workflows, chatbots, and dashboards in Teams by using Microsoft Power Apps, Power Virtual Agents, and Power Automate. When you build data-rich applications, text and file data is put into the right storage. Great for everyday no-code apps built with Teams. Scales to a million rows or 2 GB.
Dataverse and Power Apps Studio
It works as a back-end service that supports Power Apps, Power Automate, Power Virtual Agents, and Power BI. More options and control. Built on additional enterprise-grade Azure services for more scale, data integration, relevant search, offline support, and better security. Scales up to 4 TB or more.
Dataverse Pro-Dev
It can help to use existing data for the application easily. Use virtual tables to directly access your remote data without importing or moving it. Additional control and security features. Integrate search into your apps and even into your processes or bots.
We have gone through the main benefits of using Dataverse for business. Microsoft Dataverse is a strong tool to help store and maintain your data and have it customized the way you want it to suit your needs.
Microsoft Dataverse provides businesses like yours with multiple benefits, but it presents challenges too. Although the platform is low-code, it still requires some programming, which some smaller businesses might not have necessary resources. Then there are a lot of features that some users might find intimidating. A reliable technology partner ensures the usefulness of Dataverse for any business.
As a Microsoft Partner, Digicode provides a wide range of Microsoft products and consultancy options. If you want to use Microsoft Power Platform with Dynamics 365, Office 365, Azure, or other Microsoft products, our experts can advise how best to connect them. If you would like to find out more information in regards to how Microsoft Dataverse can improve your business, or to see examples of the work, reach out to Digicode specialists.
Related Articles