Microsoft Software & Solutions
Complete Guide to Microsoft Dataverse

In today's data-driven world, businesses constantly seek innovative solutions to manage their data effectively. Microsoft Dataverse has emerged as a potential game-changer in this domain, offering an all-in-one low-code platform that provides businesses with a scalable, secure, and compliant data service at an affordable price. With its impressive array of low/no-code tools, Dataverse simplifies data management, streamlines business processes, and enables businesses to expand their data capabilities as they grow easily. What is MS Dataverse, and is it a game-changer or just another tool in the data management toolbox? In this article, we will explore the features and benefits of Dataverse and examine how it stacks up against other data management solutions, to help you determine if it's the right choice for your business.
What is Microsoft Dataverse?
Microsoft Dataverse, formerly Common Data Service (CDS), is a cloud-based online database, a part of the Microsoft Power Platform, that can collect and combine data from the site Office 365 and other sources in one place. The collected data can create Power BI reports, mobile applications, and business portals based on Power Apps and run business processes through Power Automate.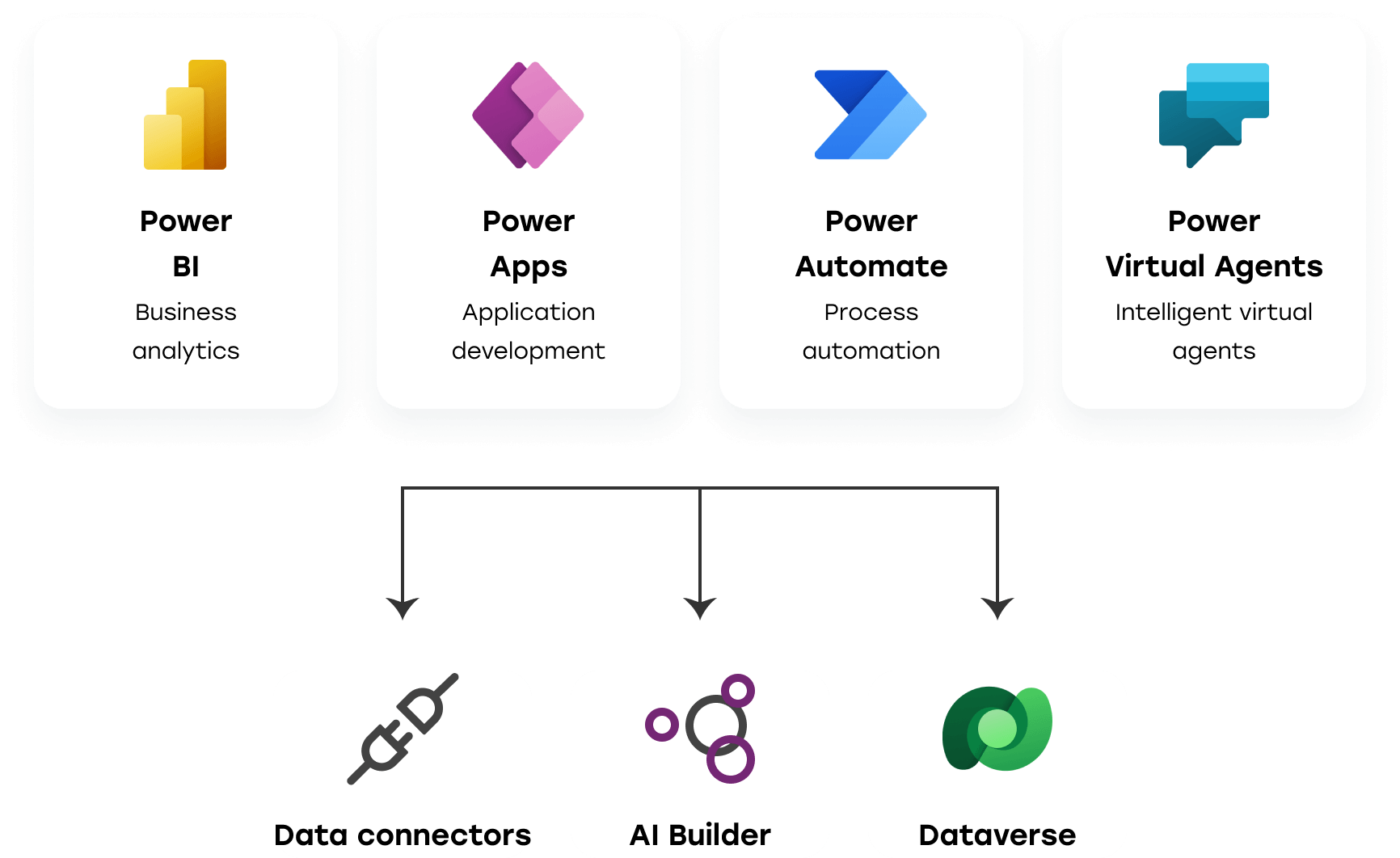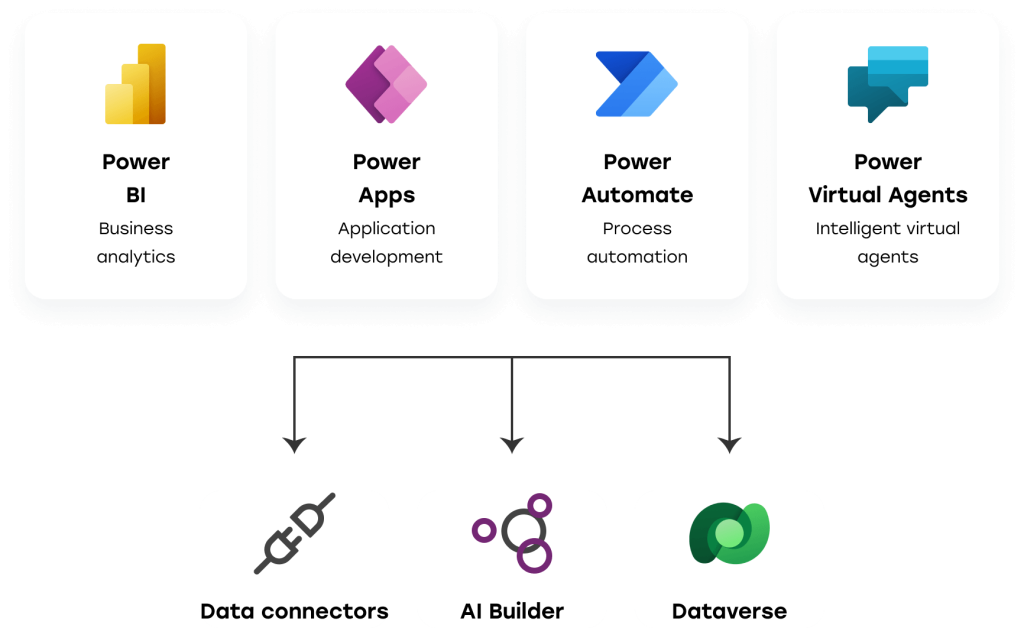 MS Dataverse creates a structured information core with a well-thought-out process automation tool to save staff time.
This core integrates seamlessly with all other parts of the Microsoft Power Platform and can be connected with all platforms, services and systems required for the company's business processes. At the same time, a security system will protect all data in Dataverse.
MS Dynamics Dataverse provides an additional opportunity to use the latest developments in artificial intelligence and start creating solutions based on it right now. It means obtaining competitive advantages based on technologies that will be applied in all areas of business and industry soon.
How does Microsoft Dataverse work?
It's time to understand how it works in practice. Dataverse is not only a master data hub but also a powerful Application Programming Interface (API) that allows Dynamics 365 apps and services to store and share data with custom apps and other software through the Power Platform.
MS Dataverse supports various data types and formats, including structured, semi-structured, and unstructured data. It offers multiple integration options, including RESTful APIs, OData endpoints, and custom connectors. MS Dataverse can also function as a data warehouse for organizations, storing and organizing their data within its standardized structure.
Data is structured in Dataverse tables, which consist of rows and columns that can store a wide range of data types, including contacts, transactions, files, and images. This structure is facilitated by the Common Data Model (CDM) metadata system, which allows for the quick and easy sharing of data elements between different applications and business processes.
Custom tables can be created to meet specific organizational needs, which can then be used to build business-specific applications. Dataverse is primarily used with data generated by Microsoft Dynamics 365 products, but it is also expanding to include its ERP systems.
Dataverse is an open-source web application that stores data in a combination of Azure SQL and Azure Blob storage.
By serving as an API and a data warehouse, Dataverse provides a comprehensive solution for organizations looking to store, manage, and share their data in a standardized and accessible format.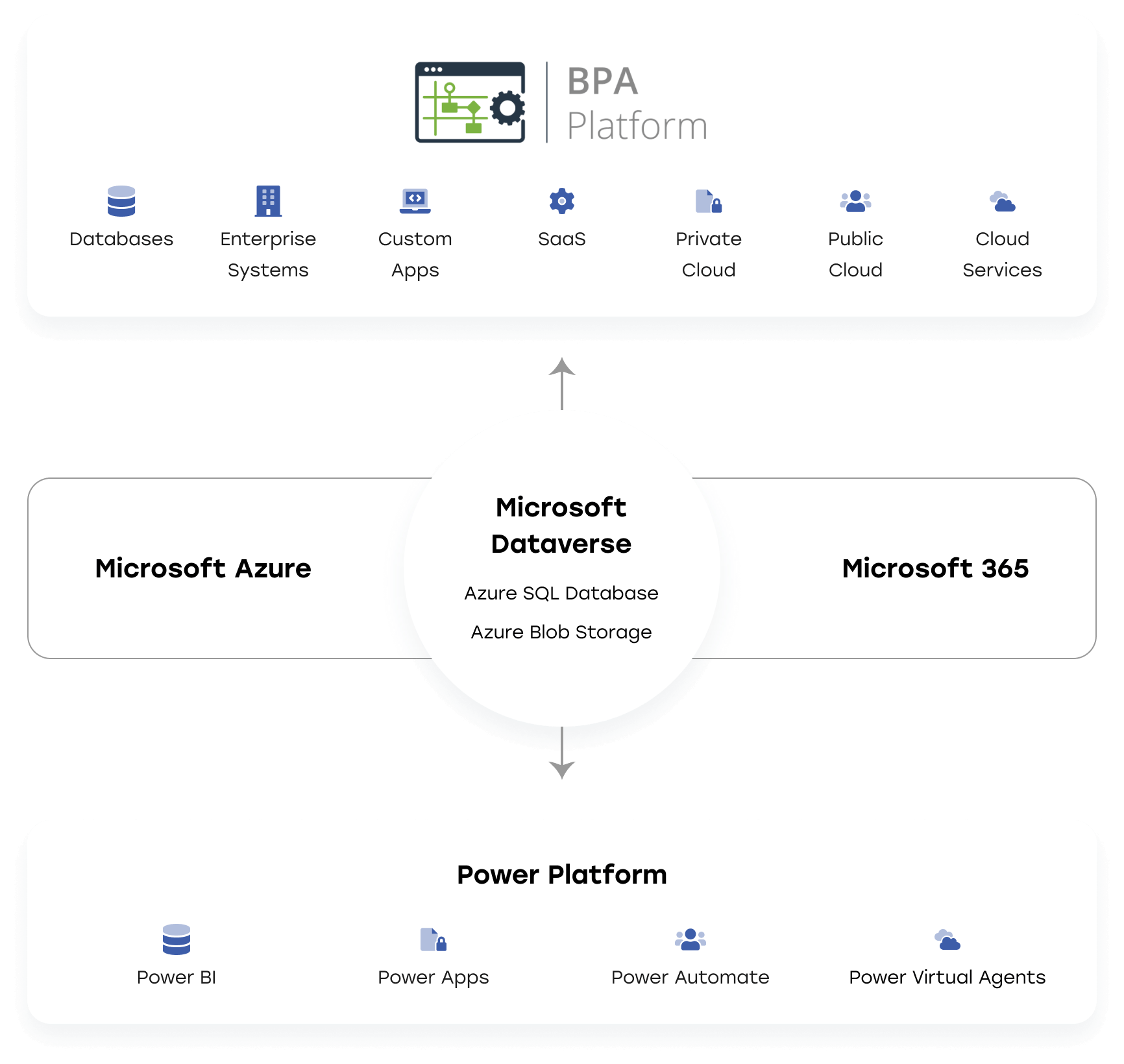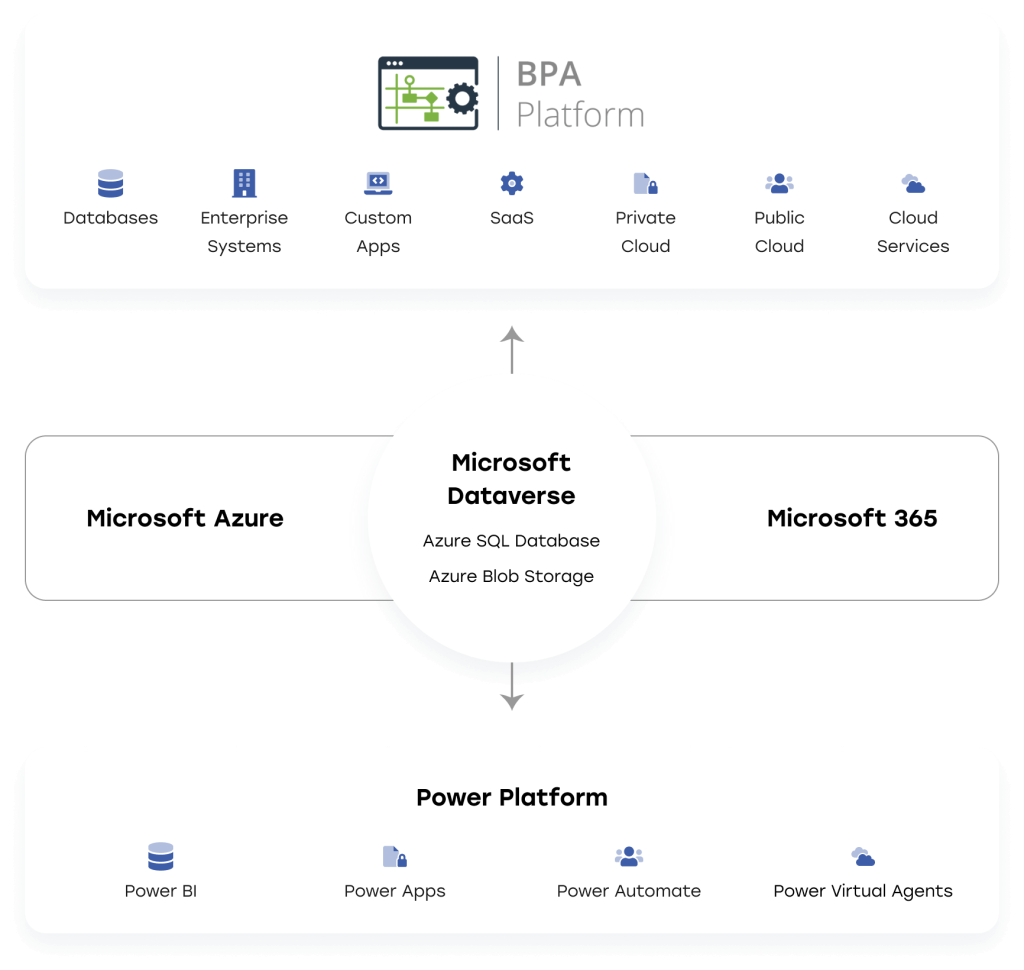 Benefits of Microsoft Power Platform Dataverse
Scalable platform
Ability to create and launch thousands of applications without programming knowledge.
Platform security
Protect your data with layered security.
New opportunities
Get new automation opportunities for your business using the Microsoft Dataverse system.
Easy data management
Easily connect and manage information in Microsoft Dataverse.
Flexible data stored
Increase or decrease the amount of stored data according to your business needs.
Secure data storage
With Microsoft Dataverse, you can dynamically store and manage data in a secure environment.
Consider Digicode as your trusted partner
At Digicode, we specialize in providing expert Microsoft Dynamics CRM consulting and Microsoft Dynamics ERP consulting services to businesses looking to leverage the power of the Dataverse in Power Platform. We also offer consulting services for other Power Apps like Power BI, Dynamics 365 Sales, Dynamics 365 Customer Service, and Dynamics 365 Talent. Our unique selling point is our deep expertise in this field, which allows us to deliver customized solutions that meet the specific needs of our clients.
As a Dynamics CRM consultant provider, we have worked on many projects, from small businesses to large enterprises, and successfully solved various challenges using our solutions. For example, we helped Science and Technology Center to gain visibility and control over grant management with Microsoft suite. This solution allowed the company to ensure completely transparent budgeting, timely accounting and custom reporting.
You can learn more about our successful projects by checking out our portfolio.
What is the Dataverse?

We can answer the question what is Dataverse Microsoft as follows: Dataverse is a cloud-based data management platform by Microsoft that allows secure storage, management, sharing, and data analysis.It integrates with other Microsoft tools and services and supports various data types and formats.

Why use Dataverse?

Dataverse is a powerful data management platform developed by Microsoft that integrates with other Power Platform services. It offers a robust security model with multilevel security to protect data integrity and user privacy and supports efficient data access and collaboration. Dataverse allows quick setup and standardization with options sets and contains object models to simplify work and improve performance. It also offers a custom interface with visual constructors to modify data. Dataverse can be integrated with Dynamics 365 Sales, Dynamics 365 Customer Service, and Dynamics 365 Talent. With over 300 connectors, it can be connected to virtually any data source. Digicode can help bridge the gap between separate systems, saving companies time and money. Dataverse for Teams provides a collaborative environment to manage data and improve productivity.

What is the pricing for Microsoft Dataverse?

The Microsoft Dataverse pricing depends on the specific usage scenario and requirements. Dataverse is a service within several Microsoft products, including Power Apps, Dynamics 365, and Power Automate.
For Power Apps, Dataverse is included with all paid plans (Power Apps per app plan, Power Apps per user plan, and Power Apps per device plan) at no additional cost. For Dynamics 365, Dataverse is included with all Dynamics 365 plans.
If you need to purchase additional Dataverse capacity, you can do so through the Power Platform admin center. The pricing varies depending on the amount of capacity you need, and several options are available, including per gigabyte per month or 100,000 transactions per month.
It's recommended to check the Microsoft Dataverse pricing page for the latest information and specific pricing details.

How do I get data from Microsoft Dataverse?

To get data from Microsoft Dataverse, you can use several methods:

Power Apps: You can create an app in Power Apps that connect to Dataverse and displays data in a user-friendly interface. You can also use Power Apps to create custom forms to input and update data in Dataverse.
Power Automate: You can use Power Automate (formerly Microsoft Flow) to automate workflows involving Dataverse data. For example, you can create a flow that sends an email notification when a new record is added to a Dataverse table.
Dataverse API: You can use the Dataverse API to retrieve and update data in Dataverse programmatically. The API supports several authentication methods, including OAuth 2.0 and Azure Active Directory.
Power BI: You can connect Power BI to Dataverse to create reports and visualizations based on Dataverse data. Power BI can also create dashboards that display real-time data from Dataverse.
SQL Server: If you have an on-premises installation of SQL Server, you can use the SQL Server Import and Export Wizard to import data from Dataverse into SQL Server. You can also use SQL Server Integration Services (SSIS) to create complex data integration workflows.

Overall, several methods are available to get data from Microsoft Dataverse, and the best way will depend on your specific requirements and use case.
Related Articles
Microsoft Software & Solutions