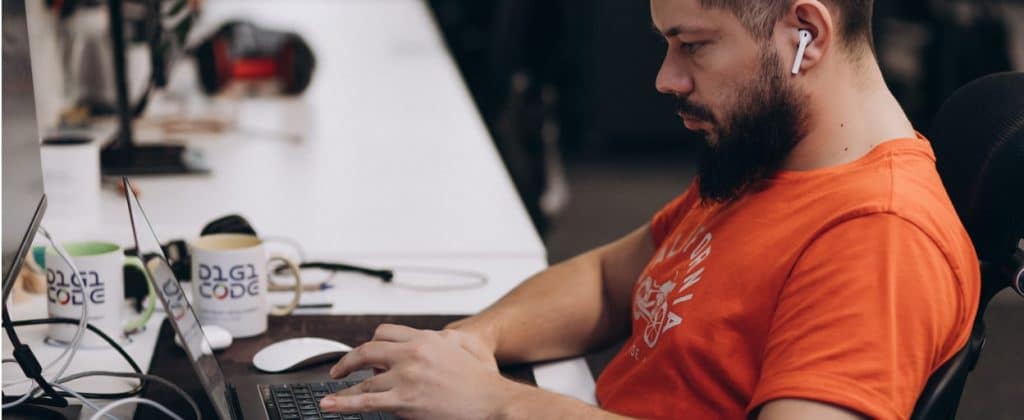 Small screen smartphones developed a new paradigm of how modern software should look like and behave. Simplicity and ease of use became the de-facto standard for every new product. This new trend spilled over into the business environment affecting how people use and expect software to perform in their workplace.
We understand that designing a good user experience for your product can make a difference between absolute success and failure for any product. Crafting a user journey, making the processes intuitive and straightforward, providing users with all the information required to make the right decision at the right time – these are just necessary steps in satisfying your customers.
At Digicode, we understand the importance of usability and design to build successful products. Our team of designers and usability experts make and offer a best-in-class UI UX Modernization Services practice. Digicode can help you build irresistible products that will help you turn your users into brand ambassadors and increase your NPS. Get Started With UI/UX Modernization.
Discovery
Task
UX Type Identification
Understand Current State
Understanding Desired State
Understanding Stakeholders and Requirements
Deliverables
Engage
Task
Kickoff
Team Onboarding / Shared Discovery
Initial Market Research
Deliverables
All Project Artifacts Established
All Projects Meetings Established
All Milestones Documented
User Research
Task
Define User Groups / Potential Personas
Implement Research (User Interviews, Contextual Inquiries, Surveys, Focus Groups)
Conceptual Designs Discovery
Deliverables
Research Outcome Reports
User Personas
Conceptual Design Document
Information Architecture
Task
Sitemap Development
Data Dictionary Development
Deliverables
Sitemap / Appmap
Data Dictionary
Interaction Design
Task
Develop Flowcharts
Develop Wireframes
Deliverables
Visual Design
Task
Mood Board Development
Style Guide Development
Mockup Development
Microcopy Development
Deliverables
Mood Board
Style Guide
Mockups for Testing
Microcopy Dictionary
Prototyping and User Testing
Task
Storming (Prototype and User Testing Report)
Norming (Prototype Revision and User Testing Report)
Performing (Prototype Revision and User Testing Report)
Deliverables
Wrap
Task
Prepare for transition to development
Deliverables
Final Prototype
Deliverable Checklist
Zeplin Extract(s)
Allied Modernization Services
Our Key Differentiators
Proven capabilities in managing successful UI/UX Modernization projects
Ensuring smooth migration from legacy to state of the art
End to end UI/UX Modernization capabilities from UI/UX Research, Design to Engineering
Not just modernization, but build enhanced functionalities based on the latest tech
How an effective UI/UX design makes my app successful?

Forrester's study of UI/UX design ROI shows that, on average, every dollar spent in UX brings in $100. Can you imagine the profit? According to their research, a well-designed user interface increases conversion rates by over 200%. If you manage to increase customer retention by at least 5%, your profits will increase by more than 25%. Satisfied users often recommend the products they like to their friends. According to Forrester, 23% of customers who have had a positive experience tell 10 or more people about it.

How to understand it's time for UI/UX modernization?

UI UX design services are usually required every 2-3 years, but at least every 5 years. Only in this way, your application will be in trend, respond to changes in user requirements, market demand, and competition.

It's time for UI/UX modernization when:

User interest and conversion decreased;
You plan to rebrand the company, enter a new market, change marketing policy, expand the scope of activities, scale;
You want to add new features or screens, change the app flow;
You need to change the app to support a new OS;
Your app is out of date compared to the competition.

How can I estimate the cost of UI UX design services?

We can estimate the cost of UI UX design services based on the required men/hours that depends on the business needs, app complexity, and OS.

You can contact us to get a free consultation with our UX experts, which can analyze your application and make the optimal estimation.

How much time is needed for a successful UX modernization?

Many factors affect the timing of UI/UX modernization, such as technology stack, OS, app complexity, user requirements, business needs, etc. UX modernization should be smooth. Your users have established habits that need to be improved. So users have to be led through the new elements step by step. It is a long process that takes time, but the results are worth it.

Modernization of a simple application with a few screens usually takes 2 to 3 months. For large applications with advanced functionality can take more than half a year.

Can we do this alone, or do we need help with a UI UX development company?

UX modernization requires a team of UI UX designers, technical experts, business analytics, and marketers who can conduct a qualitative analysis, identify all vulnerabilities and correctly build the user experience.

As a rule, if a company decides to take on such a project alone, it leads to the consolidation of previously existing mistakes or the creation of new ones. External teams can help you to see things from a different perspective and suggest the best possible solution.

Digicode, a professional UI UX development company has deep industry experience and best practices to immediately reduce costs, simplify your application.
Why
Digicode Design?
Discipline of Delivery
Often digital design services are complex to manage, which entails delays and over cost of product development. We insist on having this discipline to ensure on time, on scope, and budget delivery.
Best Practice Methodology
Digicode developed the best practice methodology that balances smooth user experience with a modern user interface to guarantee quality, predictability, and create a product that wows your customers.
Flexibility
We understand that there are different approaches to digital design depending on the product maturity or other factors such as budget or deadlines. So we adapt our practices to the client's requirements designing a user-friendly and beautiful interface.
Efficiency
At Digicode Digital Design, we are interested in ensuring that you can leverage the designs in your solution development efforts and that they aren't simply pictures that you have to turn into code. We use technologies like Figma, Zeplin and Drakon which provide maximum transportability for stakeholders and usefulness for the developers.
Proprietary IP
Digicode Digital Design Studio has developed our own unique approach to ensure the usefulness of the Digital Design efforts. Our deliverables of User Personas has an incredibly useful structure, which helps align everyone involved; we produce a Data Dictionary in XML so that it can be leveraged by the development team; we produce one or more Microcopy Dictionar(ies) in XML so that the user's experience is both cohesive and intuitive (eliminates poorly worded tooltips, captions, error messages and the like which confuse end users).
Cost Savings
Digicode Digital Design Studio uses onshore resources for the UX Design tasks and deliverables and Offshore (Ukrainian) for the project management and UI Design tasks and deliverables. This approach ensures incredible outcomes at a more cost efficient price than what is commonly available in the market today.