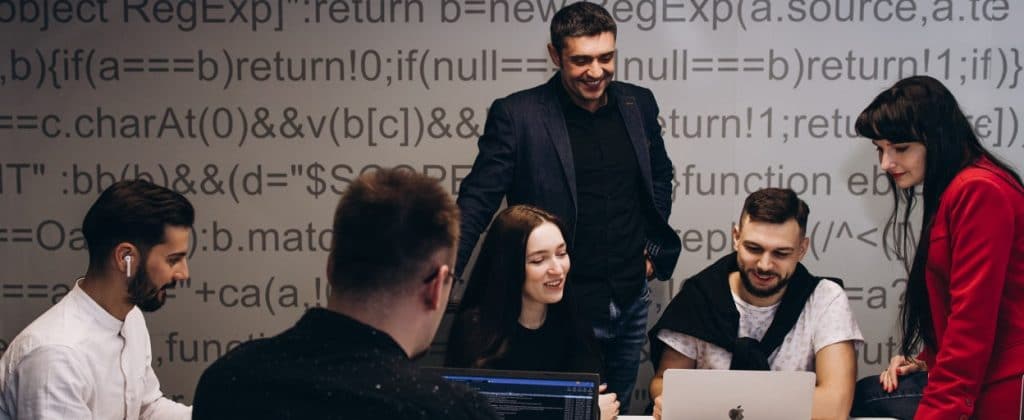 As organizations grow and evolve, the business applications and software they use lag the new business realities. To stay relevant and be competitive, organizations need to modernize tech, but often-
Fear change and disrupting existing tech.
Face dilemma choosing the right time for modernization.
Fear high-risk factors and high investment that comes with adopting new technologies.
At Digicode, our tech modernization consulting services help companies answer these and many more questions around technology modernization and accelerate digital transformation. Our proven tech software modernization approach can help businesses to modernize without surprises and the risk of breaking the working process. Our software technology modernization experts can help and advice with discovering new opportunities by implementing new business models, improved productivity, usability, efficiency, and global distribution. Connect With Our technology modernization Experts in USA.
Our Tech
Modernization Process
A comprehensive, well-defined, and continuous process is needed for successful tech modernization. We meet the management and operational team to understand
Current needs and challenges
Their vision for the new system
The next step in delivering the tech modernization service is an audit that assists in identifying loopholes and uncover hidden opportunities. Internal process audit helps understand the processes from a business standpoint.
The next step to modernization is to Identify the inter-dependencies between different processes, find ways to make processes faster, and improve quality. A plan is created mentioning today's state and outlining the desired state that needs to be created.
The longer route of gradual change enables successful replacement rather than a full replacement approach. This approach allows you to find immediate improvement areas and what you can improve over time. With a gradual change approach, we ensure smooth implementation, reducing system failure or capital expenditure.
Let's Talk
Our Key Differentiators
Proven capabilities in managing successful Tech Modernization projects
Ensuring smooth migration from legacy to state of the art
Advice on new possibilities in service delivery, data, mobility UX, and much more
Not just modernization, but build enhanced functionalities based on the latest platforms
Benefits of Technology Modernization Consulting Services
Efficiency
Technological modernization ensures the realization of business goals, helps to optimize maintenance and operation costs
Reliability
We use modern technologies to ensure that modernized systems are reliable, always available, secure and recoverable
Security
The updated software provides a high level of differentiation of access to information and company resources
Adaptability
Changes in the IT infrastructure, adaptation to the company needs to occur synchronously with changes in the market
Availability
The information resources you need will be available at anytime from anywhere in the world
Reasons to Choose Technology Modernization Services from Digicode
Extensive experience
With 13+ years of experience in digital transformation, software and mobility solutions, Digicode is a team of world-class experts in innovation and business excellence. We delivered 250+ digital solutions to help businesses leverage the power of technology.
Performance boost for high-load systems
We possess extensive experience in re-engineering software, improving their flexibility and adding new features. Handling complex technology modernization, we focus on boosting performance to make it a few times faster, which helps our clients beat the competition.
Costs reduction
We have a lot of success cases of delivering extra value to business with our technology modernization consulting services. Our domain knowledge and unique approach allows us to bring high-performance, flexibility, scalability, and competitive advantages into outdated software, thus helping clients save on maintenance costs.
Data security
We are ensuring that our client's data and user information are protected and secured. Digicode experts use advanced data security methodologies and security best practices. We focus our effort on making sure only authorized employees/users can access data.
What is technology modernization consulting?

Technological modernization is the adaptation of new technologies and improved methods to increase efficiency, achieve business goals and meet market requirements.
Every business uses technology to perform operational functions or serve customers. A successful business must quickly adapt to market changes. If the software doesn't meet all the business needs anymore, or creates challenges for its operation, then it is the time to update the technology.

When do I need technology modernization consulting?

The right time for Technology Modernization when your current technology does not support your business needs, or you plan to scale within one or two years, consider technology modernization. Our Technology modernization consulting services experts can find the right solution and new ways to automate your business processes that can help you optimize maintenance costs, reduce turnaround times, improve performance, and increase ROI. Read the  COMPLETE GUIDE ON SUCCESSFUL TECH MODERNIZATION for more information.

How much does technology modernization cost?

The cost of technology modernization depends on many factors. To estimate it, we need to conduct an audit and understand the size of the software and business complexity. To calculate the approximate modernization cost, you require multiplying the expert's hourly rate by the hours spent. Usually, some key improvements can be done within the first-two months for small or medium businesses. A full technology modernization will most likely take 6-18 months of engineering work.
For large-scale enterprise projects, this process can be longer and more expensive.

Who works on technology modernization?

Modernization team may vary from project to project, but usually, technology modernization team includes: business analysts, software architects, UI/UX designers, software developers, QA engineers, DevOps engineers,and Project Managers. Our technology modernization experts ensure you get the best software modernizations services.

How to choose a technology modernization provider?

Here is a step-by-step guide on how to choose a technology modernization partner:
1) Understand how your competitors modernized their technology. Analyze your business domain for successful examples;
2) Ask questions to technology modernization providers;
3) Check software modernization vendor's technology and expertise;
4) Find a right technology modernization partner that feet your needs.
Here is the Ultimate Guide for Choosing the Right Technology Modernization Partner.
Allied Tech Modernization Services