#Technology Modernization
Trends that are going to improve financial services in 2021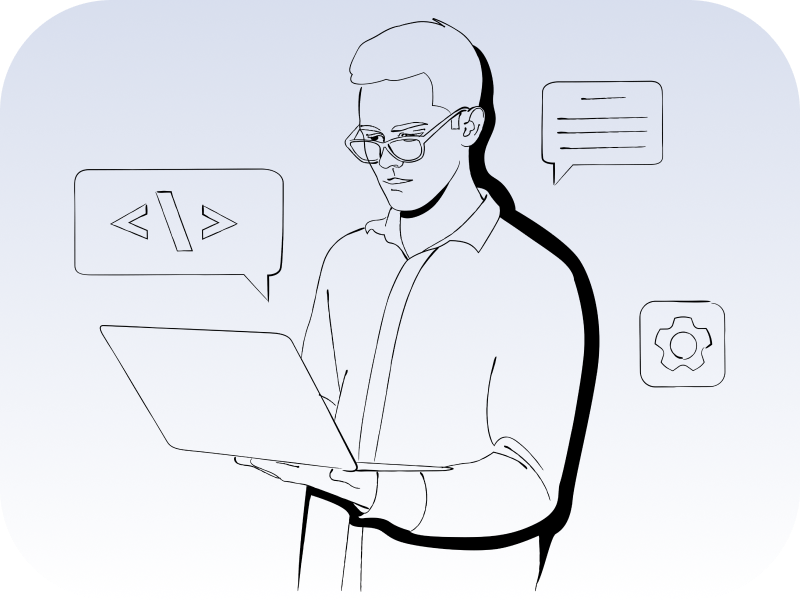 The Matrix Fintech Index announced that investments in FinTech in 2021 could reach $100 billion. There are good reasons: in 2020, the industry grew by 97%. During this time, the SP 500 index increased only 14%. The index of companies providing classical financial services fell by 10% altogether.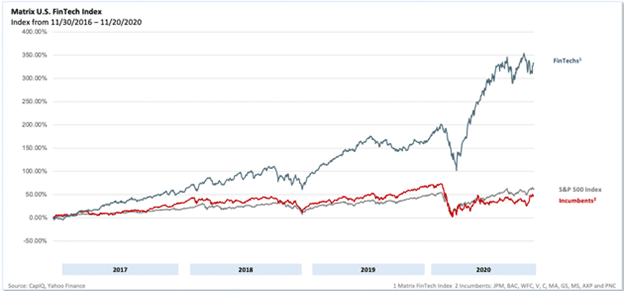 Matrix U.S. Fintech Index 2016-2020, source:
The pandemic accelerated digitalization processes, and the most prominent players were able to make many formats of financial transactions digital and massive, which became the point of the explosive growth of FinTech.
We analyzed the main challenges of 2020 and identified eight main FinTech trends in 2021.
Digital banking and neobanks
Many banks move to a digital banking model where services are provided online without a physical bank representative. These banks have advantages for both businesses and customers.
The client does not need to stand in lines, come to the bank to open an account or sign many documents. It can pay bills quickly, have convenient expense management, a balanced view, and real-time analytics. All transactions take place online and automatically. It means that the banks can save on office and staff costs. Chatbots, mobile POS terminals, and new underwriting models allow for the automatic processing of user requests quickly.
You should know that there is a difference between digital banks and neobanks. Digital banks are often the online arm of a traditional bank. Neobanks are entirely digital and independent. Users around the world celebrate the convenience of neobanks. They are primarily related to a personalized customer experience. This way, you can see your balance in real-time, keeping an efficient record of personal funds without any monthly fees or withdrawal costs.
While maintaining a competitive edge, some traditional banks partner with various technology platforms to deliver more innovative services. The future belongs to digital banks.
Big data management
According to Statista, the global big data market is projected to grow to the US $ 103 billion by 2027. Today's finance companies strive to provide a more personalized experience for their customers, so they use customer data to deliver more tailored offers at the right time.
The primary source of this data is financial organizations: loan applications, debit cards, deposits, brokerage services, tax documents, bank statements, internal reports. This information can be used to identify significant trends, potential risks, and informed strategic decisions.
Fintech developers can significantly improve data processing by creating applications that will quickly and accurately extract information from any document or storage, analyze it and present it to the user in the required format and in an intuitive way. Algorithms now find it easy to identify different data types and sort them, but they often slow down when faced with difficult-to-read documents. Thanks to new fintech applications that will provide accurate recognition of an image, media file, or text, a business will receive a reliable tool for analyzing current activities, predicting needs and risks, and making well-thought-out management decisions.
RegTech
Regulatory technologies (RegTech) are innovative technologies that allow companies to use advanced developments to simplify and accelerate the work of divisions.
They automatically check every step for compliance with existing laws and regulations. All solutions can be divided into two large blocks: software for regulatory reporting, transaction monitoring, risk management, identity management, and compliance software. With regTech applications, banks and financial institutions can significantly reduce administrative costs, protect customers and ensure financial stability. In addition, new financial technologies provide speed, flexibility, scalability, and end-to-end analytics tools.
With automation powered by big data and machine learning, regtech can handle vast regulatory requirements every second for each business line. These automated solutions are programmed to continually explore and search for patterns found in large lakes of historical data. Thus, by using regulatory technologies, it becomes easier to identify problem cases or uncover fraud.
Cloud solutions
80% of companies will accelerate the transition to cloud infrastructure. IDC analysts gave such a forecast for 2021.
Cloud-based software is attractive to the fintech industry due to its easy scalability and flexibility. For example, you can migrate a digital product to another platform without visible signs for the user.
The shift to distributed computing is also shaping the digital workspace, which reduces the cost of maintaining corporate infrastructure. But there is also a bottleneck in deploying cloud-based solutions.
Cybersecurity
According to Cybersecurity Ventures, cybercrime-related damage will hit $ 6 trillion a year in 2021. Therefore, cybersecurity is one of the main directions for the introduction of new technical solutions.>
Among the main areas of work on cybersecurity for fintech companies are the following:
Transaction security, including transaction intelligence risk control and secure identity authentication.
Data security management, including the protection of personal data.
Cybersecurity, including security and technical security.
Fintech companies are working on homeland security and threat response strategies and raising employee and customer awareness. Fintech companies are desirable to cyberattacks. A recent study shows that banks invest about 70% of their funds in developing and implementing security strategies.
RPA
Robotic Process Automation (RPA) is a technology that uses software robots to automate tasks usually performed by humans. The implementation of RPA allows you to reduce the cost of operational processes and improve the efficiency of the work organization.
RPA technology is most commonly used to automate security checks, customer registration, account maintenance and closure, credit card, and mortgage processing.
Thanks to RPA, you can reduce costs on financial personnel, optimize processes and eliminate the human factor.
AI
In 2020, the pandemic accelerated the digitalization of banking around the world. Artificial intelligence in mobile banks is already helping to get an idea of user spending and differentiate services based on the data. AI and analytics are essential tools for successful digital banks that traditional banks are just adopting. In 2021, the need for the personalization of banking offers will only increase.
BNPL
BNPL – Buy now, pay later. The rapid growth of online commerce is giving rise to new payment models such as the BNPL.
86% of millennials want to shop in installments. This number is growing every year.
As a result, the popularity of services is growing, allowing you to buy now and pay for a product/service later. Several unicorns already exist, such as Affirm in the States and Klarna in Europe.
It will become essential for payment systems to create technological ecosystems to implement an installment system for all payment methods.
The financial industry is changing. Thanks to digitalization, economic structures become partners for business and for the end consumer – valuable assistants who solve many essential life issues.
Modern financial companies require constant modernization and the introduction of new technologies. It allows you to improve customer experience, optimize costs, ensure data security and compete in the Fintech industry.
So, if you are looking forward to modernizing your FinTech company with the latest trends in the market, now is the time to act!
Conclusion
Looking to modernize your finance company? You can write me a direct message, I will tell you the ways of cooperation on technical modernization.
FinTech companies need to be trendy to compete in the market. Digicode specializes in the digital transformation of companies in the financial sector. So you can contact us directly and get a free 30-minute consultation on your project.
Are you looking for specialists to help you implement new FinTech trends? Book a 30-minute meeting with our CEO by emailing us to find the best directions for your business
Related Articles