Future-Thinking ERP Trends Can't Ignore in 2022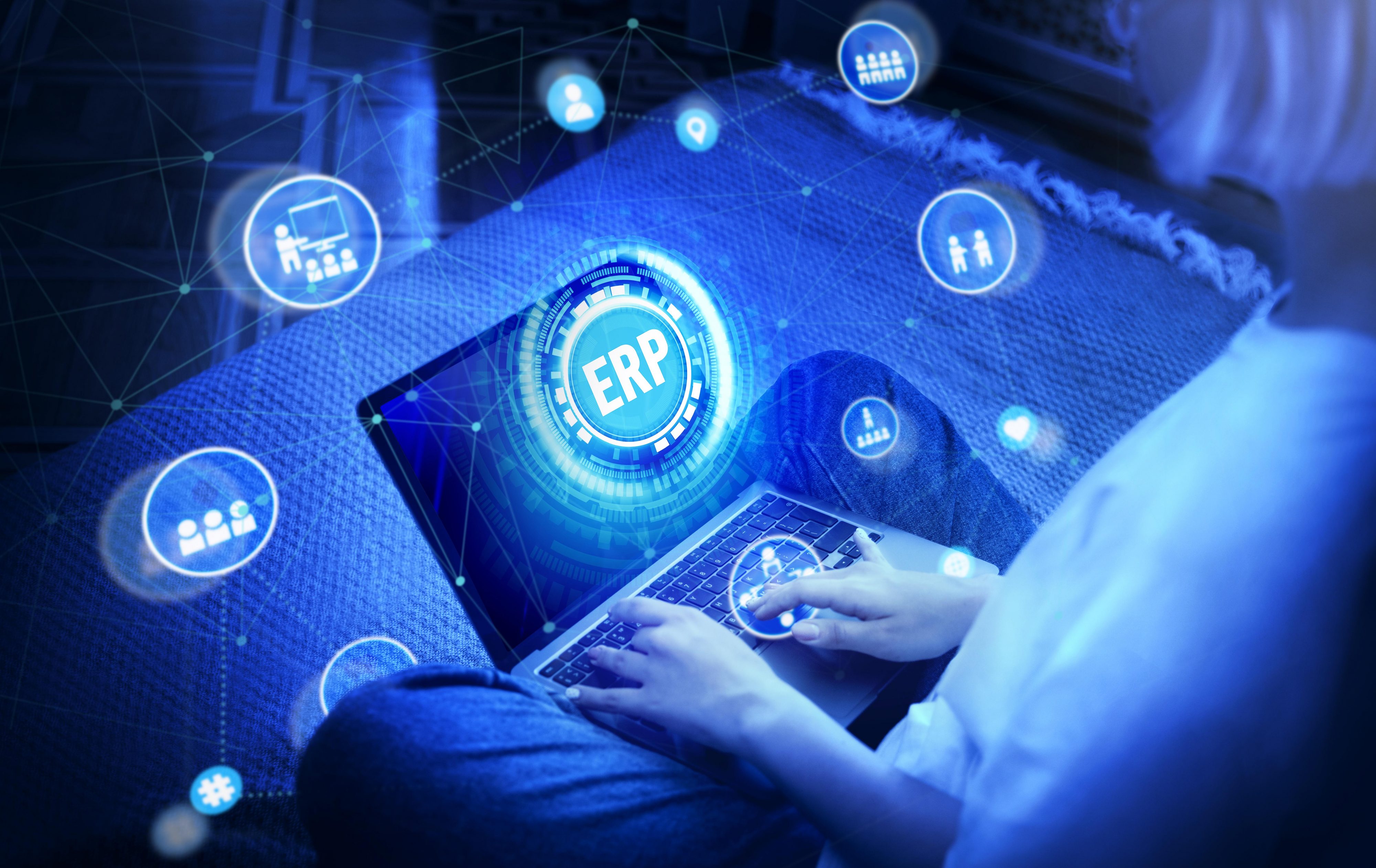 Gartner forecasts Enterprise Software spending to grow by 11.5% in 2022, reaching a cumulative spending of 669,819 Millions of U.S. Dollars.
The business world has no choice but to adapt to the new reality and the next normal that calls for improving the efficiency of business processes, minimizing operational cost, reducing the human factor, and making best management decisions. Rapidly changing markets lead to the need for business processes changing.
The main ERP trends would be the shift to cloud-based ERP software that rely on systems such as Microsoft Dynamics 365 Business Central, modernization and customization of existing systems, the moving to new software versions, the migration to the cloud, AI, integration with Big Data and BPM class systems, and the general trend of remote work.
Cloud Acceleration
In a pandemic, all business processes have moved online, business is transforming at a high speed, which is why cloud solutions have become so popular. This makes it possible to quickly adapt to new trends.
Gartner reports that cloud computing will be the main focus of the ERP market over the next 10 years. The concept of on-premise ERP is becoming outdated. Today it's being replaced by a cloud-based ERP that ensures accessibility, flexibility and functionality.
Thanks to migration to the cloud, it became possible to maintain the required volume of traffic and store data, providing access from any device and location.
Cloud-based ERP systems allow companies to:
reduce initial development costs
speed up deployment and scaling times
simplify settings to suit their unique needs
For cloud-based ERP, the initial investment is usually less, since you don't have to buy your own equipment – you just need to set up the software and start working with it over the Internet. IT infrastructure maintenance is minimized as the cloud provider takes care of it. Such an approach allows you to free up the company's resources and direct them to the development and growth of the business.
According to the "How Cloud ERP Compares to On-premise ERP" research, for companies with 100 employees, the total cost of ownership of cloud ERP systems in 4 years is 50% lower than the cost of owning on-premise ERP solutions.
Cloud-based ERP solutions don't require updates: they are regularly updated by the vendor, so you can be sure that you are using the latest version. In this case, all settings are automatically migrated. Also, clouds accelerate deployment speed. Deploying cloud-based ERP solutions takes 3 to 6 months, while it takes about a year to launch an on-premises ERP.
AI Integration
The use of AI technologies in ERP systems helps to effectively optimize routine tasks, reduce operating costs and eliminate errors associated with the human factor. Artificial intelligence today can study and optimize enterprise processes, and improve the overall business performance, while ERP software provides the required amount of structured data.
Thanks to the Cloud + ERP + AI synergy – a large amount of data received is successfully supplemented with sufficient storage capacity with further optimization of business processes, based on this data.
As the focus of enterprise management shifts from routine to logical, analytical, and creative tasks, the efficiency of the enterprise increases. For example, an AI-powered ERP solution for customer service integrates customer interaction with the order management process. AI solutions understand and learn from historical reports. Depending on the nature of the client's request, the system predicts a possible request and offers a possible response to the client.
Maintenance is another way to integrate AI with ERP solutions. A digital assistant (DA) can help a maintenance technician determine the cause of a problem by analyzing the performance and service history of this equipment at other sites.
The potential for AI-enabled ERP solutions is enormous. The combination and use of AI + ERP technologies really lead to incredible, controlled growth of almost any enterprise, gradually freeing professionals from routine operations, making it possible to deal exclusively with intellectual and strategic tasks. At the same time, AI in combination with ERP takes over the routine accounting operations with further data analysis, the main purpose of which is to optimize business processes and improve customer service.
Moving into Mobile ERP
Mobile apps are no longer a whim, but a necessity. The segment of mobile-enabled ERP solutions will grow, and we expect explosive interest in this segment because the power and functionality of mobile devices are growing rapidly.
Not only interest but also a real need exists in the segment of supply, distribution, and merchandising companies.
Mobility in the business management process makes it possible to quickly respond to all changes and stay ahead. It helps to improve employee productivity and company efficiency. Mobile solutions ensure the interaction of CEOs with stores and consumers throughout the entire supply chain. Mobility is fast becoming a common way of doing business, and mobile devices are the preferred way of communicating information to anyone, anytime, anywhere.
Thanks to such technologies, CEOs and managers can track the performance of enterprises even when they are "out of the office": on business trips, vacations, etc. Mobile ERP access takes enterprise control to a new level.
Another trend these days is BYOD (Bring Your Own Device). Many people are getting used to their mobile devices and don't want to change them to corporate ones. Today, employees can independently choose smartphones or tablets that are more convenient for them to use for corporate purposes. So, they need mobile business solutions that are as simple and familiar as consumer apps.
ERP with Real-time Data
Using in-memory computing (IMC) technologies, ERP systems can analyze and process large amounts of data in real-time. Through human-machine interaction, the ERP system can determine which processes should be automated and which should be developed. It allows employees to become more productive.
ERP systems interfaces should provide the transfer of important information to those employees who need it at the moment, at any time, and in any place. So in this way, the company's management will be able to make more effective decisions. It gives businesses a competitive edge in the digital economy as they can quickly and flexibly adapt to emerging obstacles in real-time.
Integration of IoT
With the ubiquity of IoT (Internet of Things), new horizons are opening up for ERP systems. Using IoT data in ERP systems can solve the problem of decoupling between data from networked devices, on the one hand, and operational and strategic decisions, on the other. This means that additional potential for the digital transformation of the enterprise is opening up.
Already today, IoT can be practically applied in such traditional areas of enterprise IT as customer service, forecasting, inventory management, and business analytics (BI).
Any businesses looking to build an IoT infrastructure need a cloud-based ERP system. It's the only type of platform that can facilitate the connections needed to turn data from various devices on the shop floor into actionable information for decision-making at higher levels of enterprise management. In addition, you need to combine machine and equipment signals in such a way that can be fed into the structured data environment of the ERP system.
Combining and presenting IoT data through an ERP interface will provide enterprises with many competitive advantages in the future. It's important to think about how the IoT can impact the user experience. Interaction interfaces are a sore point in the field of intercorporate relations. As more millennials and gen Z come to work as a workforce, you will need user-friendly interfaces to fill jobs, especially in older industries. The way we combine IoT technology with ERP software will determine the quality of this experience.
Blockchain and ERP
The interest of enterprises in blockchain-based technologies is growing, and over time, they are likely to be applied to ERP. So far, the blockchain is at the stage of hype, but there are real cases in practice. The use of a distributed ledger in supply chains seems promising. There are already examples of blockchain applications in ERP systems in industries for which traceability is important.
For example, Samsung said that they're exploring the possibility of using blockchain to reduce costs associated with the supply chain. As calculated in the company, the implementation of blockchain can provide it with savings of 20%. Whether this forecast will come true, we'll see, but Samsung is not the only one who expects to reduce logistics costs using blockchain. Maersk, the trucking giant, is partnering with IBM to implement blockchain for drug transport operations. Given that the quality of medicines can affect people's lives, the improvements that blockchain can provide in terms of traceability of medicines can be very valuable.
In 2022, companies will be able to achieve more in less time through intelligent automation of data-intensive tasks. We expect that businesses will migrate their ERP system to the cloud and invest in integrating AI capabilities into core software, automating manual processes using IoT devices, and focusing on upskilling and training to ensure maximum business success next year.
Digicode can take responsibility for your ERP digital transformation to adopt new and advanced technologies to align with ongoing challenges including Greenfield BC implementation, upgrading from Dynamics NAV to Business Central, migrating from Oracle NetSuite or QuickBooks to Business Central, seamless integration with allied Dynamics 365 platforms.
Contact our expert team to discuss how ERP trends can help transform your business in the year ahead.
Related Articles
Microsoft Software & Solutions