Digicode has helped Science and Technology Center to gain visibility and control over Grant Management with Dynamics 365 Business Central
of working with Microsoft Dynamics ERP
R&D project managed in ERP
serviced countries worldwide
The Customer
Our Customer is a non-profit Science and Technology Center in Kazakhstan and Ukraine named ISTC and STCU, respectively. They are intergovernmental organizations facilitating international science projects and assisting the global scientific and business community by supporting civilian science and technology partnerships. In short, they finance and support specific types of scientific projects.
Challenges
The organization had many manual and Excel-based processes because of their limited and outdated ERP system. They recognized inefficiencies and inaccuracies caused by the system, and they wanted a single ERP system to manage and control project grants and create advanced reporting. Thus, the organization could easily redistribute funding for scientific and technological projects in almost 100 countries worldwide.
Digicode was selected as a technology partner for implementing Microsoft Dynamics NAV for its proven 20 years of experience and excellent understanding of financial operation processes in non-profit organizations.
Digicode delivers ERP, CRM, BI, and analytics consulting and implementation services that drive innovation and maximize clients' Microsoft Dynamics and Power Platform investments.

Solution
In 2004, ISTU (Ukraine) chose Microsoft Dynamics NAV for its new ERP system after evaluating several other solutions. One of their key priorities was a robust and efficient solution, and Microsoft checked all the boxes.
After that, the company used the system for complex financial accounting. During this time, the system has been updated several times to new versions, and several additional modules have been developed and implemented.
Microsoft Dynamics NAV provided many functioning features for this organization and some of those main features are:
Project accounting
Project plans forming, costs distribution and control of project implementation

Fixed Assets accounting
Automation of accounting of fixed assets, capital investments, depreciation calculation
Corporate reporting
The ability to form a package of corporate reporting by the standards and requirements of corporate accounting

Website integration
Corporate website integration with resources tabulation
Resource accounting
Accounting for resources allocation, cost control
Cash flow accounting
Various banks integration
This year the system was upgraded to Dynamics 365 Business Central. Moving from Dynamics NAV to Dynamics 365 Business Central is more than just another upgrade. It's about transforming their operations to make budgeting and accounting more efficient. In this system, the company completely maintains its operational and financial accounting, as well as generates corporate reporting. Similar work was performed for ISTC (Kazakhstan).
Microsoft Dynamics 365 Business Central Features for Non-Profits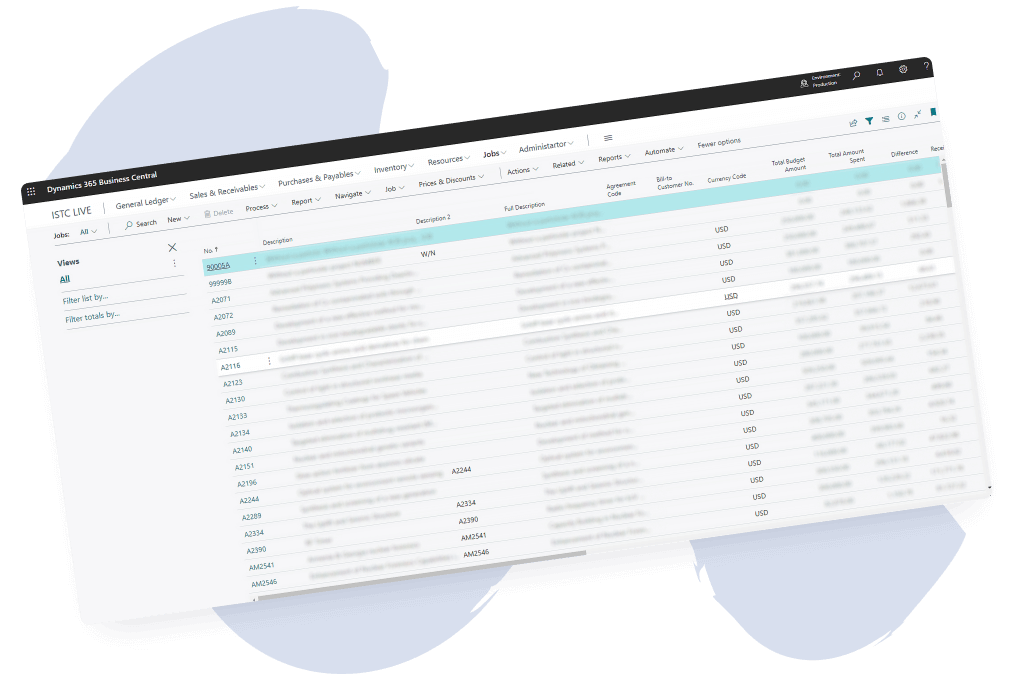 Jobs
Scientists and institutions can apply for research grants directly on the ISTC forum. Accordingly, the Customer needed a solution that could directly transfer all information on the project from the forum to the ERP system.
The main task of the Business Central was to help ISTC keep track of scientific and technological projects.
With the Jobs module, all projects with details became available in one place. Each project has its status: closed, open, in progress, unsigned documents, etc. Also, ISTC managers can quickly see the complete information about the project, including total budget amount and spending, items of expenditure, terms and much more.
Reporting
An audit is critical to the grant management process for their not-for-profit's recordkeeping and the compliance aspects involved. The client wanted to implement an advanced reporting system to provide budget transparency and reduce costs of overseeing grants and account management.
Digicode has deployed a particular reporting module that allows them to seamlessly generate reports that hold up to regulatory scrutiny in a few clicks, including information on equipment, funds, and operating costs. It can also compare planned budgets with actual spending.
New reporting features of Business Central have enabled ISTC to process more financial data and generate reports faster than their previous solution.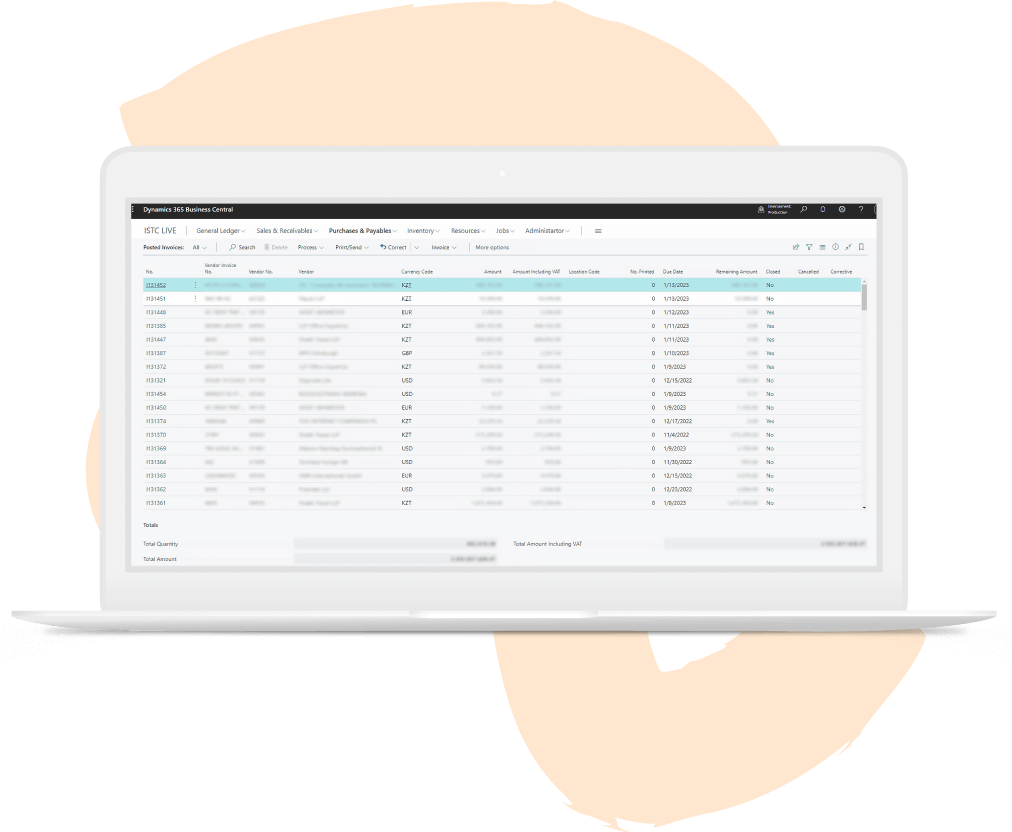 Invoices
Our ERP developers paid particular attention to the Invoices module. Thanks to this, the client could quickly place orders to purchase the required equipment and other provisions for different projects.
Bank Accounting
For non-profit companies, a bank reconciliation should be completed regularry for all bank accounts to ensure that the company's cash records are correct. In this regard, we used a particular Banking Accounting module, which allowed the customer to upload any bank transactions individually or reconcile for a certain period.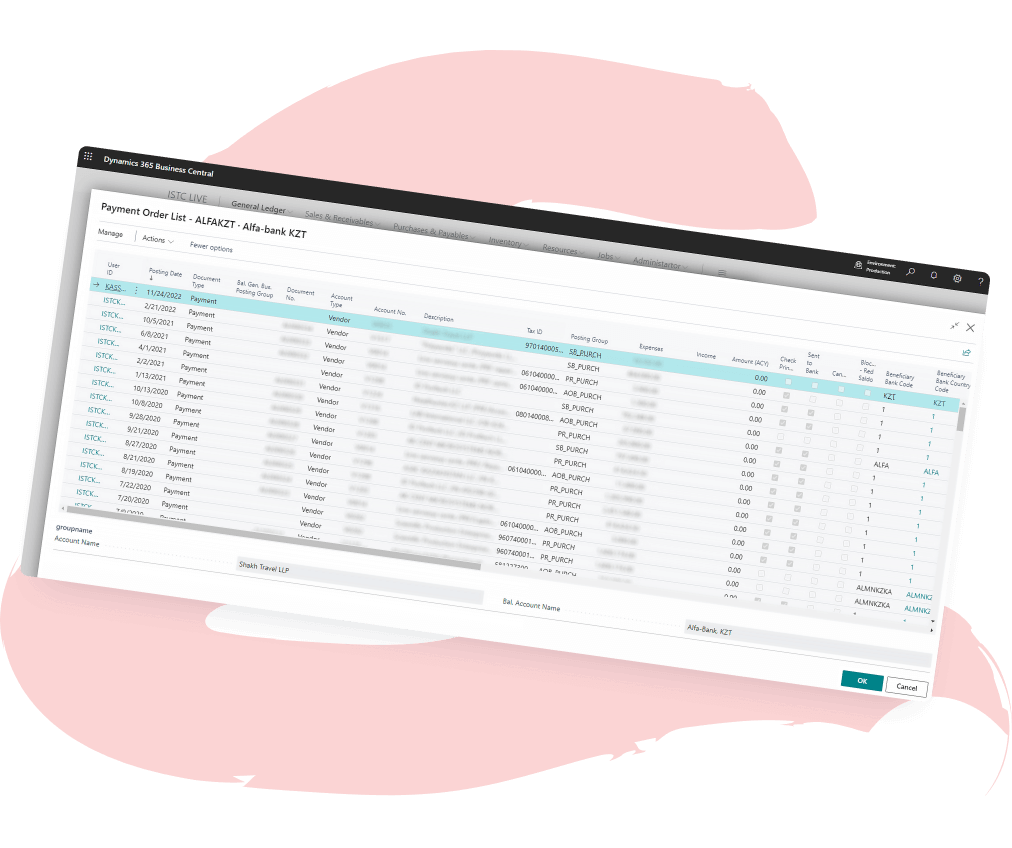 Outcomes
Digicode and ISTC continue to collaborate to this day. We help the organization maintain the system, and also work on updating the customer's forum with another Microsoft tool – Power Automate.
With Dynamics 365 Business Central, the Customer can manage funds more efficiently by storing data in a centralized location. Integration of direct transfer of documents R&D projects from the forum to the ERP system has almost eliminated the need to pass the paper around the company. We also ensured completely transparent budgeting, convenient accounting and custom reporting.