#Microsoft Software & Solutions
Microsoft Releases a New Power Platform Product with Power Pages in Preview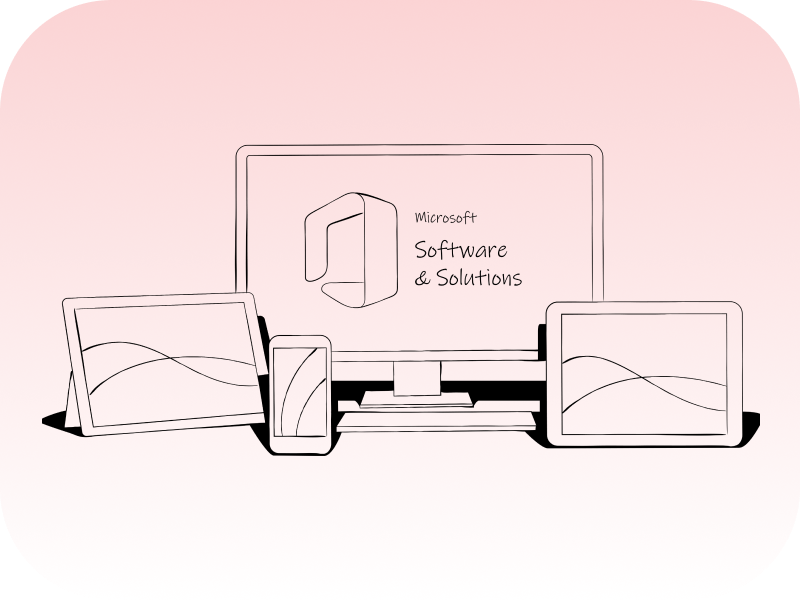 At Build2022 in May, Microsoft announced updates coming to its low-code Power Platform. The most important one became a low-code development and hosting platform called Power Pages.
With the addition of Power Pages, the Power Platform now features five main components, with the others being: Power BI (Business Intelligence), Power Apps, Power Automate and Power Virtual Agents.
What is Power Pages?
Microsoft Power Pages is a secure, enterprise-grade, low-code software as a service (SaaS) platform for creating, hosting, and administering modern external-facing business websites. It promises to enable you to rapidly design, configure, and publish websites that seamlessly work across web browsers and devices even when you are not professional developers.
Power Pages previously existed as a component of Power Apps called Power Apps portals, but it's been broken out and redesigned with a new user experience.
The main features of Power Platforms
Design studio: This is the heart of the product. Design Studio allows designing and customizing of business-oriented websites quickly and easily by scratch or using ready-to-use templates.
Templates hub: This makes it easier to create a new site by providing a collection of full-featured templates with demo data, so users can get a feel for how everything goes together before adapting the template to their brand guidelines.
Learn hub: This provides access for people without an extensive technical background to a variety of education materials including guides, tutorials, and videos on how to develop compelling websites for their company's customers and other visitors.
Pro-Developer tools: This integrates seamlessly with Visual Studio, GitHub, and Azure DevOps to further automate their development workflow.
Security and Governance tools: This ensures to keep the security of the content and data accessible through the website via role-based access controls and Azure.
Besides, by taking advantage of the cloud-hosted Dataverse environment, Power Pages works with existing data models, both in the Power Platform and in the wider Dynamics 365 line-of-business environment
What can you use Power Page for?
It's perfect for creating small and medium-sized websites, promotion pages, e-Learning platforms, simple marketplaces or online stores. Power Page can be simple, superficial, if necessary: you have the possibility of creating the page from a predefined template. You get 2 options: a default template or a segment/scenario-based template. On the other hand, it can be used to design complex pages with a bunch of details: animations, effects, forms for collecting and storing information into Dataverse, interactive elements, pop-ups, all kinds of polls, tabs, columns, and other.
"For years, Power Apps portals have offered users an end-to-end experience to create external portals quickly and confidently, and customize them with pages, layouts and content," Charles Lamanna, Corporate Vice President, Business Applications & Platform of Microsoft said. "As a new, standalone product, Power Pages empowers anyone, regardless of their technical background, with an effective platform to create data-powered, modern and secure websites. In addition to being low-code, Power Pages extends far beyond portal's former capabilities to enable organizations of any size to securely build websites with exciting new aesthetic features and advanced capabilities for customization with pro-developer extensibility."
Power Pages capabilities
To explore all the features of Power Pages, you can start a free 30-days trial. We describe only the main advantages that distinguish Power Pages from competitors.
Integration with other Microsoft services
The biggest benefit of using Power Pages is integration with Microsoft suite. For example, Power Pages ties in with Visual Studio Code, GitHub, the Power Platform command line interface and Azure DevOps to let more advanced users automate development workflows and leverage CI/CD practices. Power Pages allows users to implement role-based access controls and web app firewalls through Azure, and to collect and share business info with site visitors using Microsoft's Dataverse platform.
Express Design
Power Pages takes low-code development to the next level, providing not only functionality, but opening up huge opportunities for creating aesthetic UI/UX design. The unique feature is the new powerful Express Design that allows users to turn designer's sketches directly from Figma, PowerPoint, PDF, a screenshot, or a hand-drawn image into working code in seconds. Express Design uses object detection models in Azure Cognitive Services to work its magic. Bridging the gap from designers to programmers has long been a challenge, and this new Figma integration is a step forward.
Responsive design
Power Pages based on Bootstrap, which natively provides support for creating websites that are responsive, mobile-friendly, and available, so you can make sure your website looks its best on cell phones, tablets, laptops, and desktop screens without any additional help.
Building a complete sales cycle
This allows businesses to completely rethink the whole sales process by automating all routine tasks within one Power Platform ecosystem. Power Page is useful primarily for the implementation of marketing and sales tasks. It empowers employees without a technical background to quickly create landing pages to promote new products, test ideas and collect lead contacts by integrating a feedback form developed in Microsoft Forms into the site. The interaction between these tools, as well as integration with Dynamics 365, is provided by Power Automate to redirect user data from the form to the CRM system automatically, and included into a standard sales funnel.
More details of Microsoft Power Pages are available on the website, including the option to try out the new platform and the documentation landing page.
If you need personal consultation and help in the implementation of any Microsoft products, reach out to Digicode, a certified Microsoft Partner, right now.
Related Articles