How to streamline and automate business processes in the healthcare industry, and how to enhance the efficiency of care providers?
Enterprise Resource Planning software (ERP) – can bring together all the aspects of the healthcare organization – accounting, patient management, medical supplies management, pharmacy management, and so on – on one page in real time.
Using ERP software reduces operational costs by 23%. Meanwhile, as many as 95% of companies see significant improvements after implementing ERP software, which improves process times, boosts collaboration, centralizes data, and eliminates clinical errors.
What is ERP for Healthcare?
ERP for Healthcare is an enterprise resource planning system designed for the healthcare industry. Medical ERP systems help administer day-to-day corporate operations such as finance, human resources, procurement, project management, compliance management, supply chain operations, reporting, and patient care.
What is exactly ERP?
Each department needed a system handled in the past, adding to the effort and time commitment.
A robust ERP system integrates all of a business's essential processes, making it simpler to plan, budget, anticipate cash flows, deliver performance reports, etc.
Modern organizations need software that combines every function into a single system.
ERP in healthcare industry integrates diverse tasks within a healthcare company. It offers a centralized database for information sharing and decision-making, which can assist providers in streamlining operations, lowering costs, and improving patient care.
With ERP for Healthcare, healthcare providers can concentrate on what matters most: giving patients the highest-quality care.
Recent observations have emphasized the plight of the healthcare business and service providers. Hospital ERP is a method that can assist in overcoming challenges.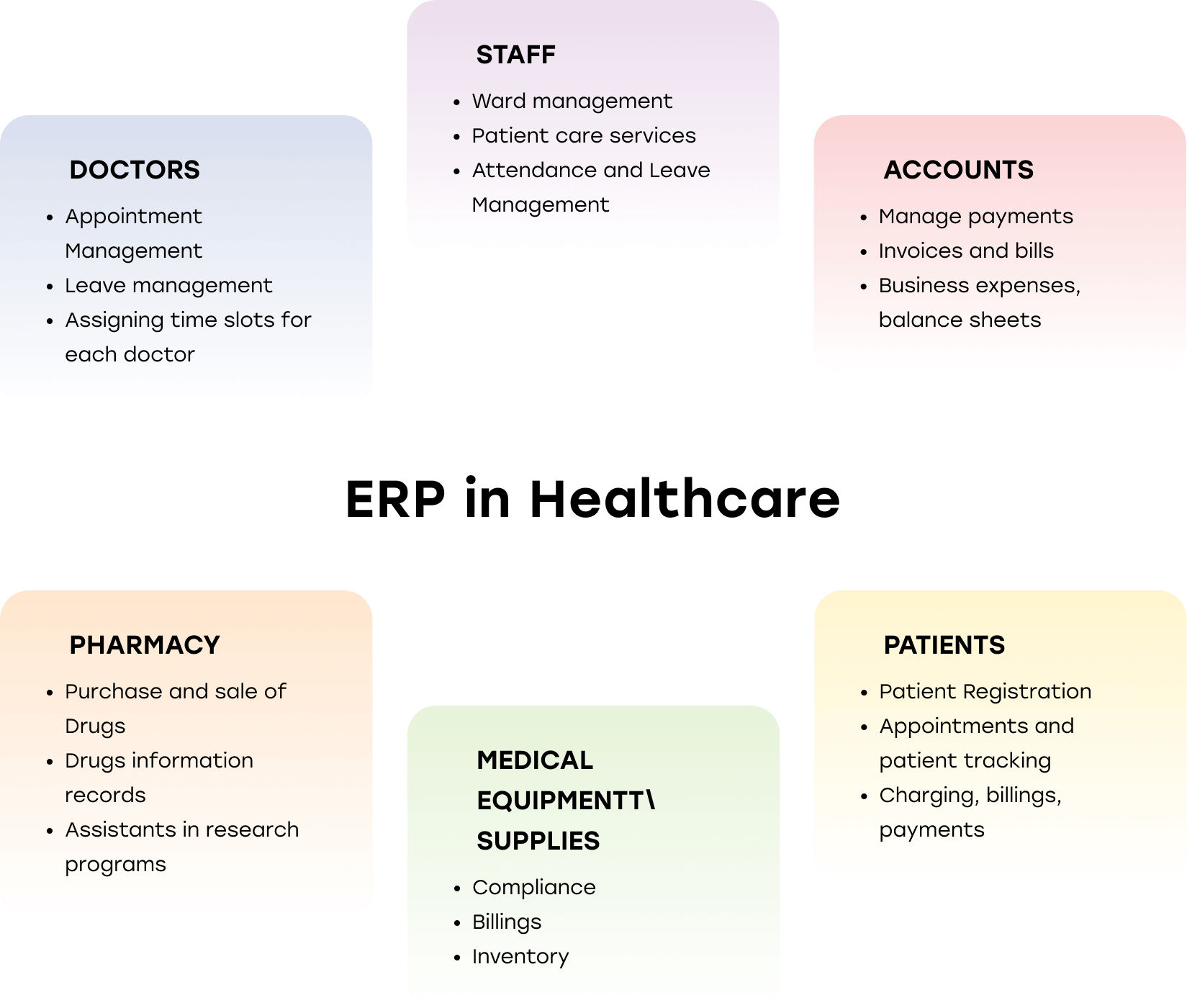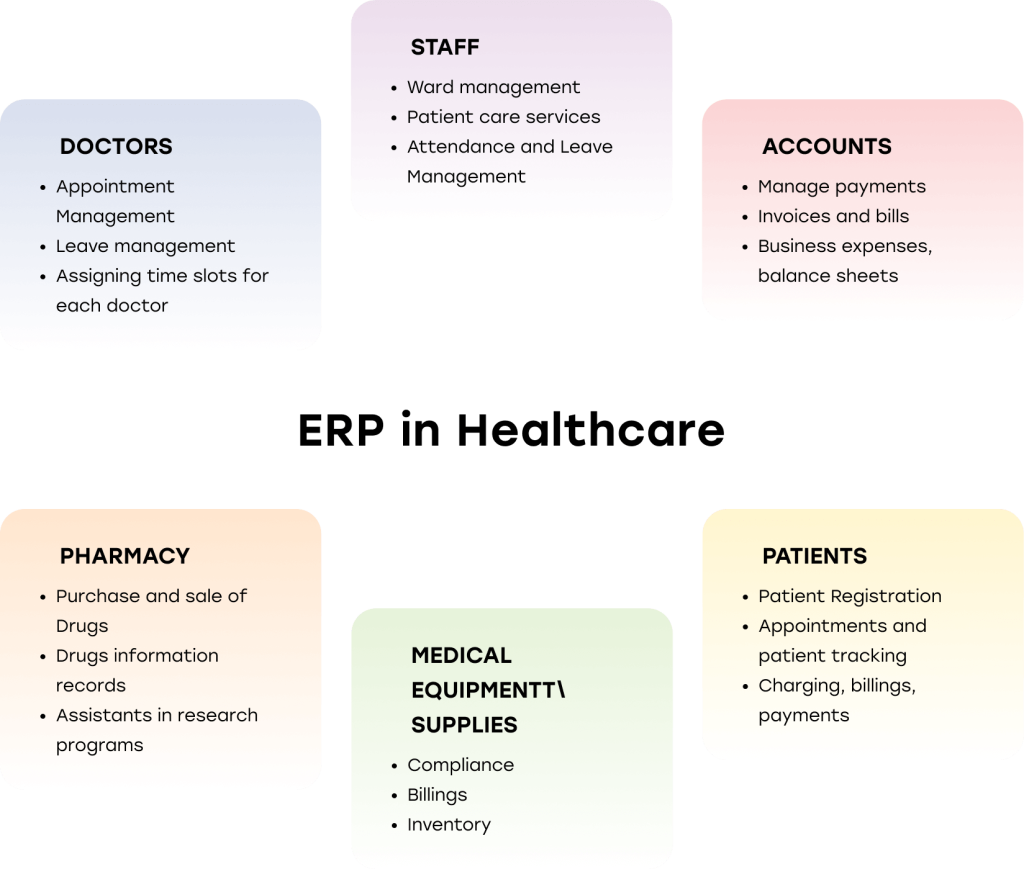 Benefits of Integrated ERP for the Healthcare Industry
Medical ERP software provides business intelligence, strategic planning, maintenance of medical records, automation, lowered operational costs, streamlining healthcare procedures, improved patient safety, and more superficial compliance.
Better Patient Care and Saving Time
A centralized system allows doctors to quickly enter the unique patient id and gain access to the latest information about the patient, from their ailment, historical data, underlying conditions, any allergies, the drugs administered, and so on.
It allows the doctor to quickly get only an update from the patient and start with the next steps of the treatment, saving doctors time to see many more patients each day and allowing patients to get a good experience and a hassle-free end-to-end course.
Easier Access to Medical Records.
Healthcare employees must have fast access to patient data whenever needed, such as if a patient phones about a medical problem or needs to schedule an appointment. As a result, many healthcare practitioners have migrated from paper and manual entry systems to ERP solutions, which provide access to crucial data with a simple click, significantly improving the patient experience.
The use of ERP in the healthcare industry is crucial.
It has proven its value and been particularly useful during the global pandemic; medical institutions that moved to an ERP or updated their current ERPs have a clear edge over those that did not.
Thanks to easy access to patients' medical history and automated monitoring of their body indicators, healthcare professionals could prioritize which patients required immediate medical intervention.
Simple Medical Document Management
ERP in healthcare is now cloud-based, allowing healthcare workers to access patient information and data even when not in the medical facility. It will enable them to offer helpful advice, and patients can make informed choices about treatment.
It is also possible to easily plan diagnostic and other medical treatments thanks to advanced software. A solid ERP system makes crucial patient information accessible across disparate systems.
Lowered Operating Costs and Reduced Errors
The healthcare sector has always strived to maintain reasonable operational costs while providing top-notch medical services. To achieve this, hospitals need assistance with labor costs and supplies. ERP in healthcare industry can reduce overhead costs by integrating all components and digitizing back-end procedures.
ERP systems can help healthcare providers keep track of patient payments and monitor their expenditures.
Automation has removed the chance of human error in administrative processes and inventory data input. It enhances the overall accuracy and efficacy of the expense-tracking process.
The primary advantages of ERP automation are:
Reduces the amount of effort required 
All of your information in one location 
Business Intelligence and Strategic Planning
An ERP solution for healthcare can enhance operational efficiency and provide real-time insights to facilitate appropriate actions. The software measures key performance indicators (KPIs) such as patient visits, requisition, budgeting, and others to evaluate the institution's operational efficiency and identify weaknesses and bottlenecks.
Administrators can use this information to create effective business plans to improve department performance. They can track and determine which areas need improvement and whether to maintain or change existing methods and policies.
Additionally, the availability of detailed business intelligence and operational insights can help managers make quick, mission-critical decisions for the healthcare organization. ERP programs can also provide valuable budget information to guide expenditures and forecast future trends.
Streamline healthcare processes and Implement best practices
Integrating essential facilities such as emergency services, outpatient departments, electronic medical record (EMR) management, radiology, patient identification, and others can simplify healthcare processes. By implementing a robust enterprise resource planning (ERP) solution, healthcare organizations can effectively monitor procedures and policies related to payments, member benefits, provider networks, registration, and more. This can enable them to adopt and adhere to industry best practices, leading to increased efficiency.
Simpler Compliance
Implementing an ERP system can simplify compliance by providing guidance and instructions on upcoming regulations. This helps to avoid issues related to non-compliance.
Compliance with medical regulations is critical in the healthcare sector as it affects human lives. The ERP in healthcare industry can identify any irregularities or non-compliance with standards, which can be prevented once the information is found.
Non-compliance can result in severe consequences and be financially costly. By implementing an ERP system, hundreds and thousands of dollars can be saved, which makes it a simple and effective solution.
Patient Safety and Confidentiality
Implementing ERP software to ensure the security and confidentiality of compassionate patient information and healthcare business processes is a great solution.
This will improve patient-physician communication and protect critical patient information by limiting access only to authorized individuals.
Healthcare institutions are investing in modernizing their ERP systems to improve patient care and reduce operational expenses and overhead. ERP systems streamline processes and reduce diagnostic mistakes. It also helps to foster important trust and clarity on the road to success. And all that without compromising on services of providing excellent care to patients.
With an integrated ERP, other organizations will recognize your commitment to patient confidentiality and security and, accordingly high reputation.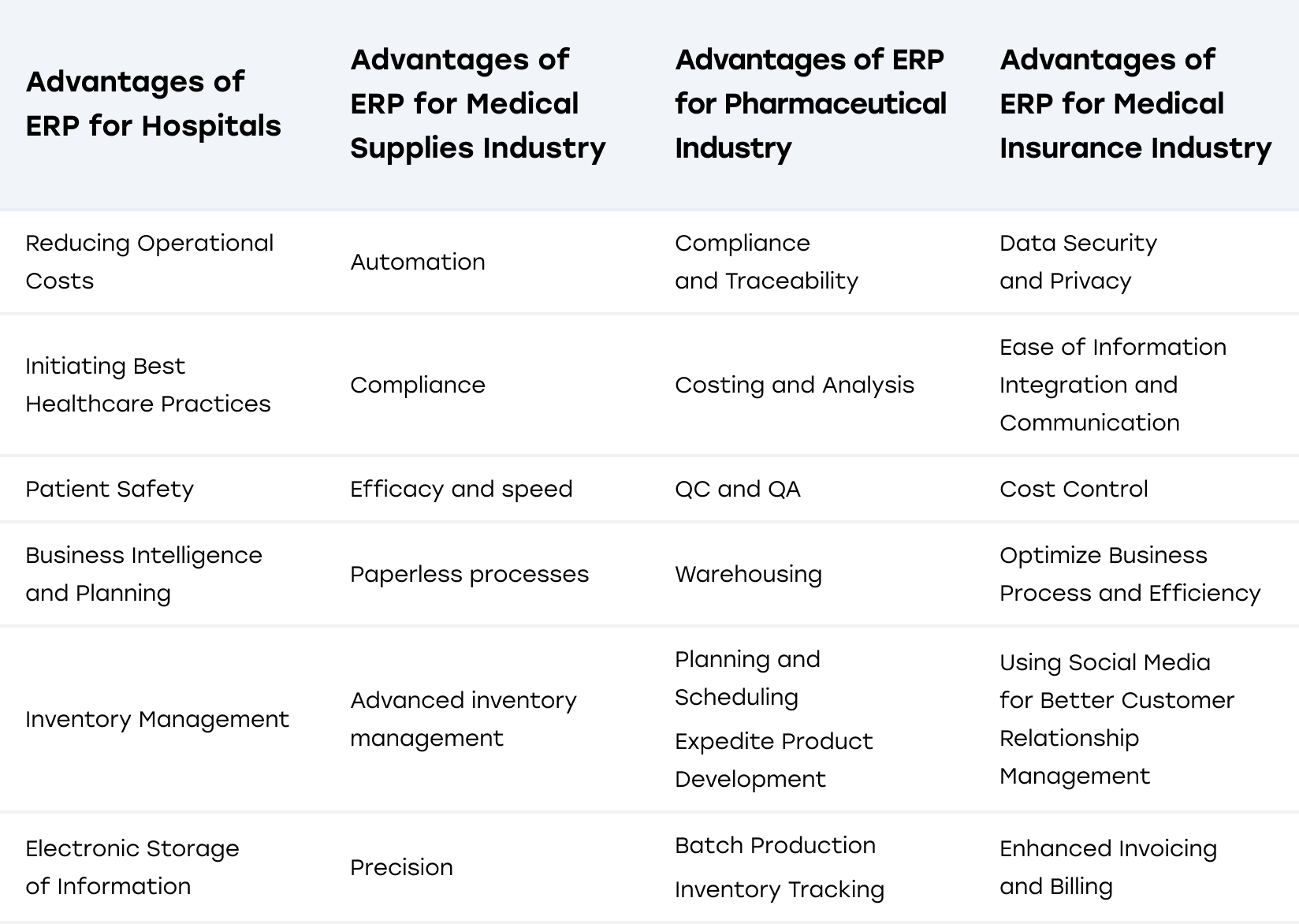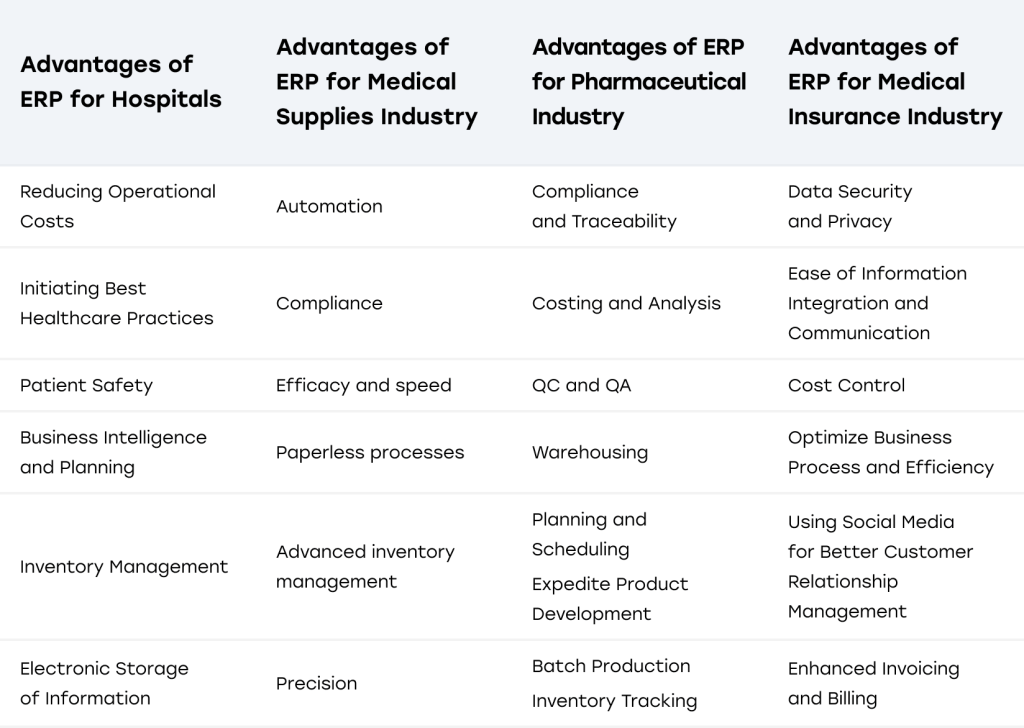 Key Features of Healthcare ERP Systems
ERP software for Healthcare provides a centralized database that stores all patient, clinical, financial, inventory and other critical information in one place. This eliminates the need for separate databases and enables healthcare organizations to access and share data across different departments.
Here are some more details about the key features of ERP systems for Healthcare:
Automation:
Healthcare ERP systems automate many routine tasks such as patient registration, appointment scheduling, billing and claims processing, inventory management, electronic prescribing and more. This feature saves time, reduces errors, and frees healthcare professionals to focus on patient care.
Integration:
ERP system for Healthcare integrates with other healthcare applications such as EHRs, practice management systems, medical billing software, and more. This feature enables healthcare organizations to streamline workflows and eliminate manual data entry.
Tracking and Visibility:
Healthcare ERP systems provide real-time monitoring and visibility into key performance metrics such as patient outcomes, inventory levels, financial performance, etc. This feature enables healthcare organizations to identify trends, measure performance, and make informed decisions.
Patient Portals, CRM:
ERP system for Healthcare provides patient portals that enable patients to schedule appointments, view their medical records, communicate with healthcare professionals, and more. This feature enhances patient engagement and improves patient satisfaction.
Supply Chain Management (SCM):
Healthcare ERP systems provide comprehensive supply chain management features that enable healthcare organizations to manage inventory, track supply chain movements, and automate procurement processes. This feature helps healthcare organizations reduce waste, optimize inventory levels, and improve supply chain efficiency.
Financial Management:
ERP system for Healthcare provides financial management features such as accounting, billing and invoicing, and financial reporting. This feature enables healthcare organizations to manage their financial processes efficiently and improve financial performance.
Sales and Marketing:
ERP in healthcare industry provide sales and marketing features such as lead management, marketing campaigns, and customer relationship management. This feature enables healthcare organizations to attract new patients, retain existing patients, and improve patient satisfaction.
Human Resources:
Healthcare ERP software provides comprehensive human resources features such as payroll management, benefits administration, and employee performance tracking. This feature helps healthcare organizations to manage their workforce effectively and improve employee satisfaction.
Reporting and Analytics:
ERP system for Healthcare provides powerful reporting and analytics capabilities that enable healthcare organizations to generate reports, analyze data, and make informed decisions. This feature helps healthcare organizations to identify trends, measure performance, and optimize their operations.
Clinical Decision Support:
Healthcare ERP systems provide clinical decision support features that help healthcare professionals make informed decisions based on patient data, clinical guidelines, and best practices. This feature enhances patient outcomes and improves the quality of care.
Automation 
Integration med ERP
Tracking and Visibility
Patient portals (CRM)
Supply chain management (SCM)
Financial Management
Sales and Marketing
Accounting. Billing and invoicing
Human Resources
Reporting and analytics
Clinical decision support
ERP systems provide a comprehensive suite of features that enable healthcare organizations to streamline their workflows, improve patient outcomes, and drive financial performance.
What Are the Challenges Healthcare Industry Faces Today?
In today's healthcare landscape, hospitals face increasing pressure to reduce operational costs while providing higher levels of medical care. With so many demands on healthcare organizations, custom healthcare software development is needed to help them sustain and meet these demands.
This is how enterprise resource planning (ERP) systems come into play.
Ever-increasing Healthcare Costs
The healthcare industry faces the challenge of ever-increasing costs, including rising drug prices, technological advancements, and the cost of treating chronic diseases.
→ Integration of ERP systems can help healthcare organizations optimize their operations and reduce costs by streamlining processes and improving efficiency.
Business Intelligence
Improved Inventory Operations
Payment Processing and Invoicing
Payment processing and invoicing are challenging healthcare providers to face due to the complexity of the healthcare system, insurance claims, and billing processes.
→ ERP in healthcare industry can improve payment processing and invoicing by automating financial processes and providing real-time data insights to improve cash flow management.
Growing Pharmaceutical Prices
The healthcare industry is grappling with growing pharmaceutical prices due to research and development costs, patent protection, and market monopolies.
→ ERP systems can help pharmaceutical companies manage their supply chain more efficiently and reduce costs by improving inventory management and production planning.
Accounting and Cost Savings
Automated Supply Chain Operations
Regulatory Changes in Healthcare And Compliance
Integration of ERP systems can help healthcare organizations stay compliant with regulatory changes and reduce the risk of non-compliance.
Staffing Struggles due to Shortage
ERP systems can help healthcare organizations manage their workforce more effectively by automating HR processes and providing data insights for better decision-making.
Automated Compliance
Informed Decision-making
Staffing Struggles due to Shortage
ERP systems can help organizations in various industries manage staffing shortages by automating recruitment and onboarding processes and providing data insights for effective workforce management.
Automated Supply Chain Operations (for Manufacturers)
Organizational Problems
ERP systems can help organizations improve communication and collaboration across departments, streamline workflows, and improve organizational efficiency.
Automated system and Patient Engagement 
Cybersecurity and Fraud Risk
ERP systems can help organizations reduce cybersecurity and fraud risk by implementing robust security measures, monitoring and analyzing data to detect threats, and implementing best practices for data protection.
Do you meet these challenges in Healthcare Industry? Now you know: integration of ERP systems can help to solve them.
Some key challenges hospital administrators typically face include managing patient records and data, ensuring compliance with regulatory requirements, optimizing supply chain management, and managing financial processes. Hospitals can address these challenges more effectively with an ERP system, improving their overall performance and patient outcomes.
How Can Digicode Help Your Healthcare Business with ERP Services?
Digicode is a leading provider of Microsoft Dynamics Consulting services, specializing in the development of ERP Healthcare Software for Clinics, Hospitals, Medical Imaging Practices, Labs, and other healthcare organizations.
We possess a comprehensive understanding of the potential risks of implementing ERP systems and are proficient in efficiently resolving them.
Effective integration of ERP systems with existing systems can challenge healthcare organizations, potentially leading to data discrepancies and delays that hamper decision-making processes.
At Digicode, we know how to implement convenient ERP systems gradually, smoothly, and accurately.
Healthcare organizations have unique needs, often requiring customization of ERP systems to meet their specific requirements. The ERP in healthcare industry needing more customization options can lead to inefficiencies and additional costs.
As an EMR software development company, we offer deep and comprehensive customization of ERP systems, meeting our customer's exact requirements. That results in cost reduction and shorter implementation times.
Security concerns are critical for healthcare organizations. Inadequate security measures in an ERP system can prevent customers from losing trust in the organization.
At Digicode, we place a high value on cybersecurity, ensuring that our ERP systems are robustly secure and compliant with the highest industry standards.
What kind of projects did Digicode do?
Digicode offers healthcare technology solutions including ERP systems for hospitals and medical practices, digital therapeutics and care coordination, and patient-centered solutions like engagement apps and portals to improve operations, outcomes and patient experiences.
ERP for Hospitals /Healthcare Clinics
EHR/EMR (Electronic Health Records/ Electronic Medical Records)
Practice management
HIS (Hospital Information System)
Medication administration
Medical staff management
Healthcare data analytics
Hospital inventory management
Hospital asset tracking
Healthcare CRM
Inventory management
Vendor management
ERP for Medical Imaging Practices, Labs
Practice management
Patient Scheduling and Appointment Management
Medical image management
Lab management
Provider portals
Collaborative Solutions
Digital therapeutics (DTx)
Care coordination
HIE (Health Information Exchange)
Patient-Centered Solutions
Patient engagement
Patient apps
Patient portals
What was the result?
Digicode's Dynamics ERP consulting services have helped numerous healthcare organizations improve their performance indicators, meeting and even exceeding their expectations. Our customers have confirmed that our ERP software implementation has had a significant impact on their customer and employee satisfaction levels.
Businesses that have implemented ERP software developed by Digicode have reported an average increase in operational efficiency of 35% and a reduction in total operating costs of 20%.
A noticeable reduction in error rates and a significant increase in reputation, thanks to the rise in the quality of their healthcare services, improved efficiency, and provide better patient care.
Discover Successful Projects developed by Digicode:
How is ERP used in the healthcare industry?

ERP in the healthcare industry is widely used for various applications, including EHR/EMR management, practice management, HIS management, and medical image management. It helps healthcare providers manage complex business processes, improve efficiency, and provide better patient care.

How can ERP solve the problems for hospitals?

ERP software can help hospitals operate more effectively in a complex healthcare environment by streamlining and integrating various business processes. ERP software can solve hospital problems by improving efficiency, enhancing collaboration, increasing transparency, and enabling better decision-making. It can also help hospitals save costs and provide better patient care.

What are the benefits of ERP in the healthcare industry?

ERP (Enterprise Resource Planning) software has several benefits for healthcare organizations, including improved efficiency, better decision-making, enhanced collaboration, increased transparency, cost savings, and improved patient care.
ERP software can automate and streamline various business processes, reducing errors and improving productivity. Real-time data and analytics enable better decision-making, while collaboration and communication can improve coordination and alignment. Increased transparency can lead to better visibility into business operations, ensuring compliance with regulations and standards.
Cost savings can result from eliminating redundant processes and optimizing resource utilization, while improved patient care can come from streamlining and integrating various business processes. ERP software is crucial for healthcare organizations to manage complex business processes, improve efficiency, and provide better patient care.
Related Articles