Digicode helped the technology driven startup succeed with technology consulting & dedicated team services
4 months
for end-to-end development
NYC's Top 50
Startups to Watch in 2017
200K Buyers
in database across 43 states
The Customer
Offrbox.com is a highly successful startup committed to making the residential investment process faster, paperless and more transparent. With a powerful yet user-friendly platform and market knowledge, Offrbox helps save buyers and sellers significant amounts of time and money.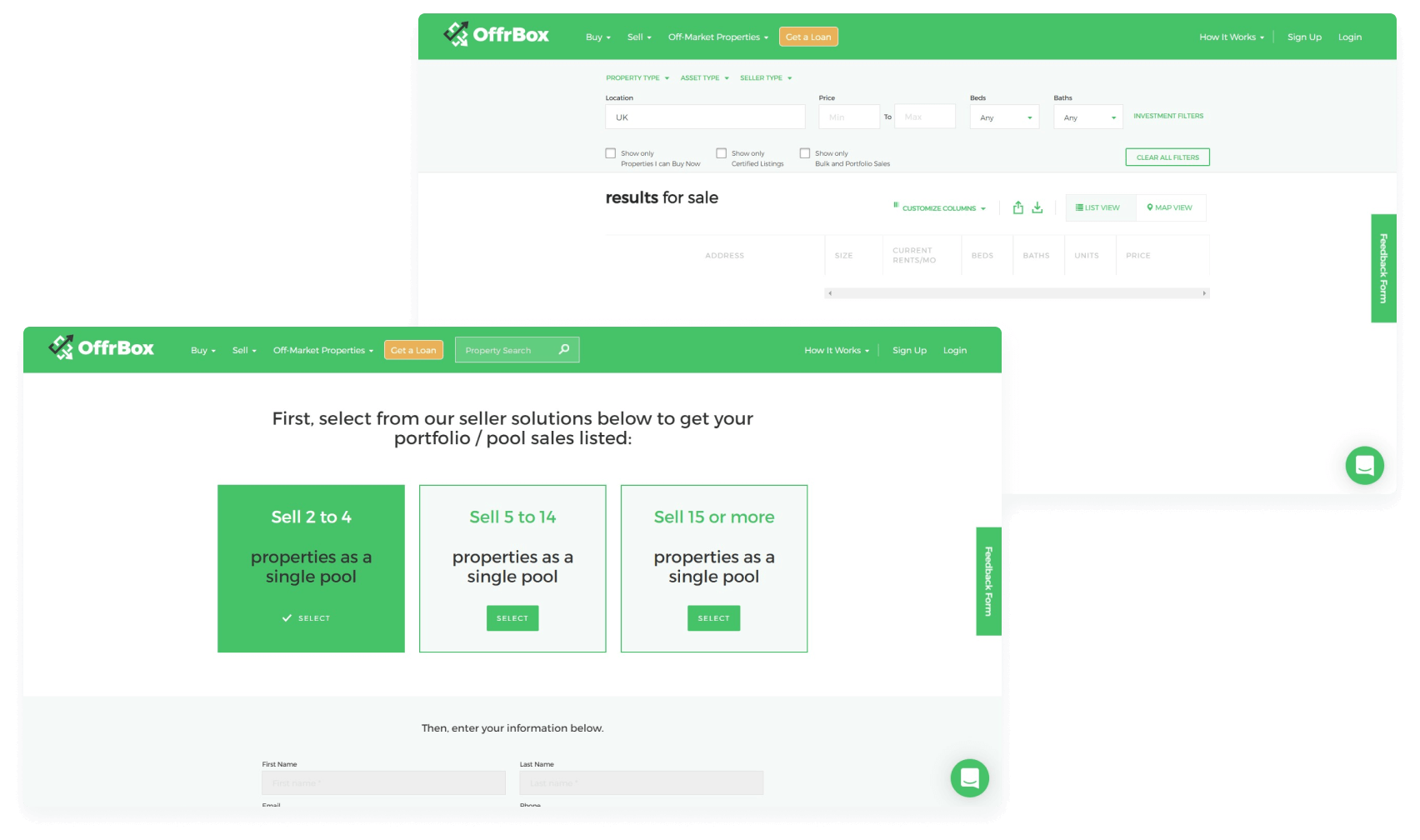 Challenges
In 2017, after enacting the US legislation allowing real estate purchase/sale operations by electronic workflows, two clients from different states came to us with similar ideas. They wanted to create buyers and sellers services that allow users to carry out purchase/sale transactions online, including creating and signing sales contracts.
When the Offrbox team of business professionals came together with an idea, they realized they needed more technical knowledge and skills to bring their ideas to market. Offrbox faced the most common problem of any startup—finding a technical co-founder and/or technical team to get the great idea to the market.
They reached out to the Digicode team to create an attractive, convenient and selling web application, taking into account the business vision and requirements.
Digicode is a technology services partner that focuses on helping organizations use technology to achieve their business objectives. The services offered range from advisory, estimation, management, implementation, deployment, ongoing maintenance and administration of technology on behalf of our clients.

Solution
Due to Digicode's proven track record in assisting startups in building and launching their technology solutions, Digicode was entrusted to fulfill the CTO office and the entire technology team roles from strategy through implementation to ongoing maintenance.
Implementation
Digicode first analyzed the needs and internalized the business objective, assumptions, and constraints. Digicode then offered strategic deliverables by way of architecture and technical governance advice. Finally, Digicode assembled a world-class development team and executed the plan.
Our team has implemented many services to provide the buyer with complete information about the property and the area in which it is located. Considering the importance of the agreements made on the site, the team had to think carefully about the site's functionality. We paid particular attention to the compilation of the property page.
Another challenge was integrating the real estate service with various statistical services that help clients get information about nearby schools, restaurants, shopping malls, grocery stores, and crime statistics. We also implemented the opportunity to use the services of a broker and conduct a comprehensive investigation. We have carefully thought out the bidding procedure. We also developed a particular sequence of actions between the buyer and the seller for the user experience to be similar to offline purchase and sale transactions.
Since such deals result in different types of agreements, all required contract templates were available. Site functionality allowed downloading the needed agreement template, filling it out and signing with a digital signature. As a result, the Digicode team built a sequence of actions and a system of prompts on the site so that anyone can independently conduct a real estate transaction without leaving home.
OffrBox provides best-in-class technologies
Enhanced Search
OffrBox allows the user to search for real estate using more than 50 filters, helping to select only the most suitable properties.
The Offer Box Portal
By utilizing the Offer Box Portal, investors can submit offers, receive offers and negotiate with fully customizable responses in real-time.
Closing Coordinator
The fully-automated Contract Coordinator guides the buyer and seller through the contact process, allowing them to complete it in just a few clicks.
Property Display Features
Sellers can present their properties in the best possible way using videos, 3D tours, pictures, due diligence documents and contract documents.
Offer Comparison Portal
This feature helps sellers compare and analyze offers and make data-driven decisions to accept, reject or counter-offer based on this.
Outcomes
Offrbox faced a typical challenge for non-technical entrepreneurs: Can you bring a technology-driven offering without the core technical talent to market? The Digicode & Offbox partnership proved that this is not only possible, but by selecting the right partner, this can be achieved in just 4 months, on the scope and budget.
Digicode delivered a fully automated service with a broad and deep feature set, used by 200K+ buyers in the United States.
Since our beta launch in July 2016, Offrbox.com has become one of the largest online real estate marketplaces for residential investors, with over 1,400 properties in 43 states. Also, they were recognized as Built in NYC's Top 50 Startups to Watch in 2017.