Digicode Digital Design helped Koddi to contemporize the property and tenant management experience and engage new users through user-friendly and simple UI/UX design
Fast Analytics with Intuitive
The Customer
The platform provides exceptional tenant service and creates a better living. Koddi allows tenants and landlords not only to communicate with each other but also to schedule a convenient date and time to visit a property, pay online, check rent balances, create management reports of profit and loss, prepare tax returns, report service problems, and much more.
Challenges
The client came up with a request to create a service for property owners and agents with technology that provides exceptional tenant experience, improves occupancy and increases profitability by reinventing PMS.
The service had to combine simple, user-friendly design and comprehensive functionality for landlords and tenants.
For landlords, we had to develop such functions as:
adding property (gallery, description and list of facilities)
list of added properties, transaction history and tenants list
adding or connecting new tenants
private messages to communicate with their tenants
service request dashboard for easier status tracking (request management)
online contracts signing
In turn, tenants had to view the history of real estate contracts (where they lived) and transaction history, create a request for property maintenance, send private messages and pay online.
This platform was supposed to ease the interaction between tenants and landlords and speed up routine processes, such as concluding a contract, real estate maintenance, and communication.
How we designed Koddi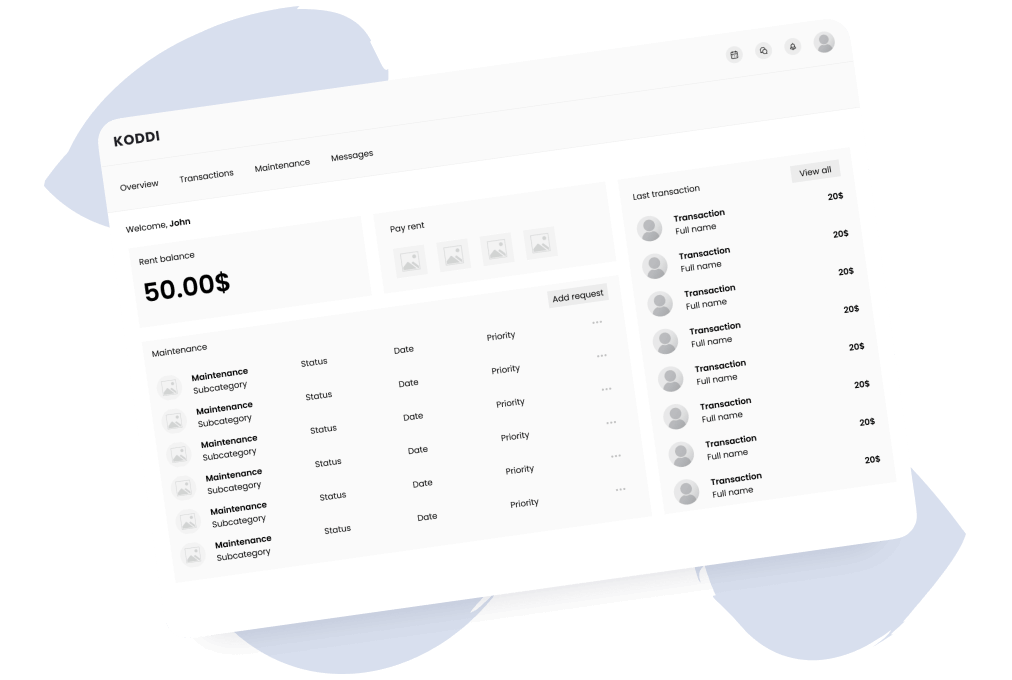 Wireframe & User Flow
We started working on the project by creating a wireframe for each role and prototype. It allowed us to design a flow describing what steps each type of user should take within the products to achieve their goals successfully, identify the main flaws and problems, and test many hypotheses.
Mobile Version
The biggest challenge was to create such a straightforward and convenient design for mobile devices as for the web version. So we focused on the adaptive version. All tables were tailored for comfortable viewing on any mobile screen. Buttons and all clickable elements were arranged so that it is handy and quick to interact. We also framed an interactive prototype for the mobile version that helped fix the shortcomings during the design stage.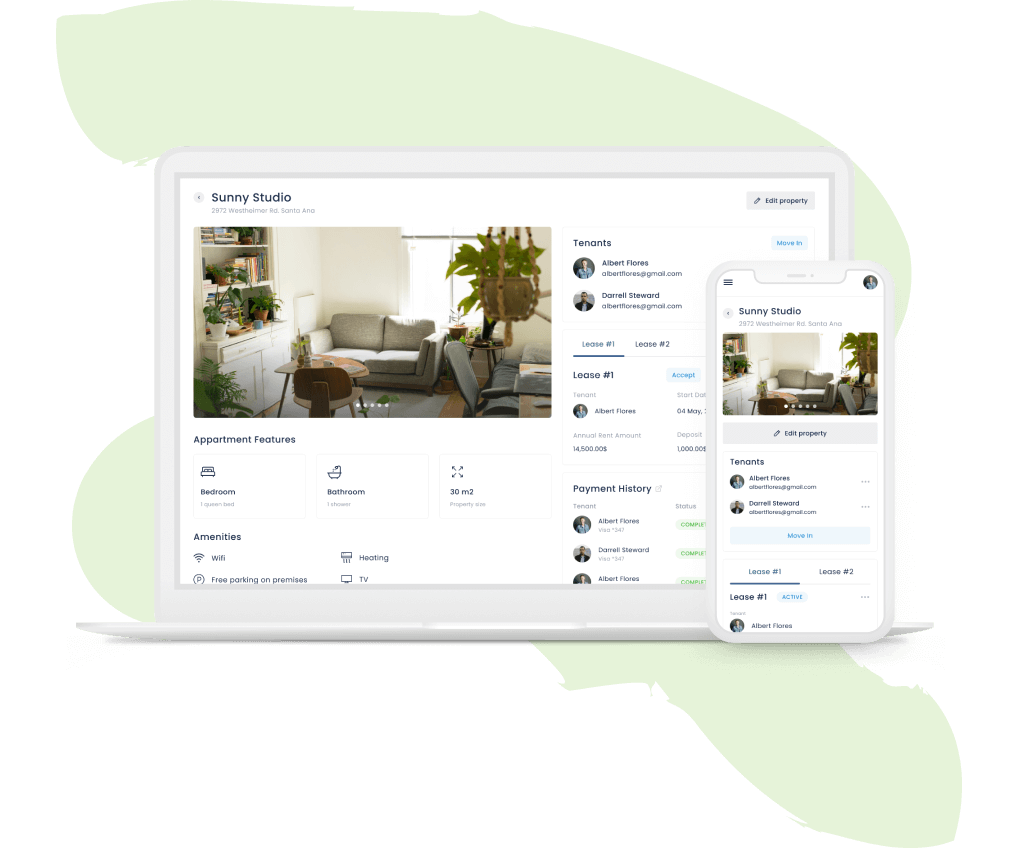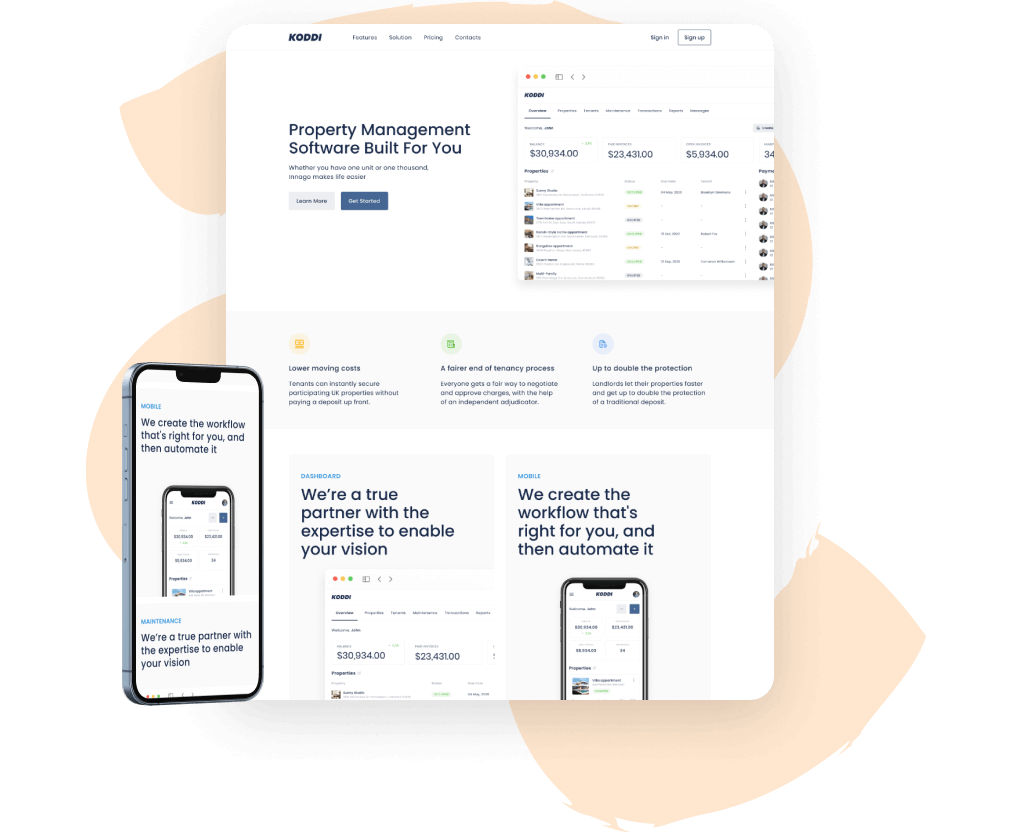 Landing Page
As a part of our cooperation with Koddi, we also created a landing page that represents the main features of the service, its benefits, etc. The website design matched the service's minimalistic and spacious styling with rounded shapes. Its main goal was to attract new customers since it was a start-up that needed to build its customer base from scratch.
Digicode Digital Design has been working in the specialize in UI/UX niche for SaaS apps since 2008. Our expertise allows us to find optimal solutions when clients need assistance solving UX problems.
Want to find out where our designers can bring your product?

Koddi core features
In the end, we got a user-friendly and simple UI/UX design with such main features:
Service
The tenant can create a service request if the apartment has a problem. To do this, he must fill out a questionnaire on the site, attach a photo, and choose a convenient time for repairs. After that, the landlord will receive this request. All requests are designed as a board (like Jira) to make it convenient to track all requests. The landlord can fix the problem themselves or outsource it to a third-party service. For each request, users can leave comments.
Real Estate
In some cases, landlords can move in new tenants, for example, if they rent a room. The landlord can see a list of people living in it on the property page and the contract and payment history. Also, there is a possibility to submit invoices.
Payments
Tenants can attach their cards or choose another convenient payment method. They can also set up automatically scheduled payments and track all costs.
We have added a notification to make sure to receive all the payment and other vital information.
The result
We aimed to design a platform that makes the complex process of tenant management service simple and understandable for a regular user. And we did our best to ease the interaction between tenants and landlords and speed up routine processes with the help of consistent and minimalist Koddi's design.