Digicode Helps BOSCH Maintain its Image as an Industry Leader With the Transformation of their New HVAC Services LOB
International Exhibition's Laureate award
The Customer
The BOSCH Group, a leading global supplier of technology and services, generated sales of over 78.12 billion euros in 2017. As a leading IoT company, its goal is to deliver innovations to help customers feel and stay connected. They offer innovative solutions for smart cities, smart homes, connected mobility, and other services. They also provide a cloud that helps customers with related, cross-domain solutions from one source. With operations divided into four business sectors: Industrial Technology, Consumer Goods, Energy, Building Technology, and Mobility Solutions, BOSCH aims to improve the quality of life by offering products and services that are cutting-edge and spark excitement. They create technology that is "Invented for life".
Challenges
Bosch Group contacted Digicode to help transform their new HVAC services Line of Business.
BOSCH was actively developing its new direction focusing on servicing commercial HVAC systems, and required experts to help implement the software part. This initiative is in combination with a focus on automation and IoT devices. The goal was to create a whole new set of tools needed by field technicians that would allow them to increase the quality and efficiency of their field world and provide commercial customers with transparency and reporting on unprecedented levels.
With solid expertise in IoT software development, a user-first product thinking approach, and the ability to build a product from scratch to a scalable enterprise-level solution, Digicode was the right fit for this project.
We provided our services to BOSCH in Software and Mobile Development, IoT, and Smart Device Integration.
Digicode is a trusted technology partner for reliable, cost-effective, and scalable IoT solutions tailored to business needs. We provide high-quality services from advisory, estimation, management, implementation, deployment, ongoing maintenance and administration of technology.

Implementation
Digicode and our partner joined forces to bring this business idea to life and put our IoT development expertise at the service of companies worldwide. While the BOSCH team focused on their core business – developing smart devices that will be compatible with the new initiative, our team took over building the software needed for a tablet that each tech will carry with them on a service call.
Our cooperation started from a discovery phase driven by a core team of Digicode experts. After analyzing all the requirements for the mobile App, including business workflow, reporting, and existing and future smart devices that will be integrated, we came up with a design. This design will support current needs and allow for future expansion. Digicode was against the clock, with BOSCH set to announce the new service at a trade show only eight weeks away.
About Bosch HVACR Service App
For Professional Refrigeration and Air Conditioning service people, the Bosch HVACR Service App must be a new and innovative tool to track their clients, jobs, tasks and, critically notably, refrigerant usage.
The demo application contained 2 main features (flows):

1. Interaction with BLE scales
With the Bosch CS 2.0 Refrigerant Scale, users can control the scale from their Smart Devices and instantly calculate the remaining capacity in any cylinder. The refrigerant measured is automatically stored in the App and tracked in the cumulative counter.

2. PDF report generation
All data can be output into a report, including signatures from service workers and customers, recorded directly on the screen. Then, a PDF Service Report is generated on their smart device for instant emailing or printing.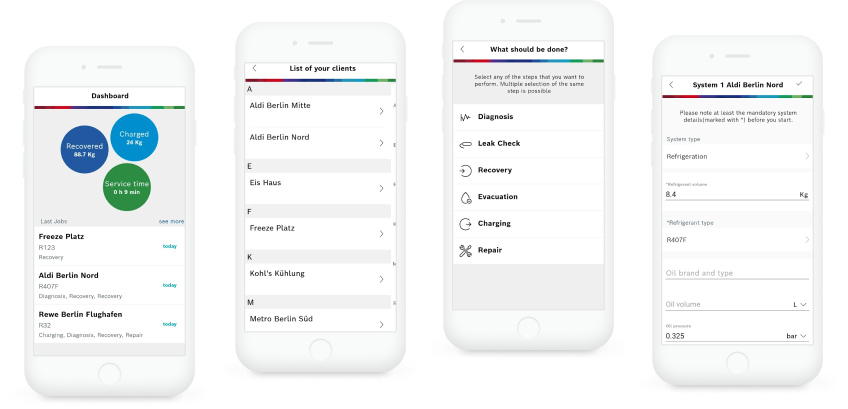 Working on a tight timeline is always challenging, but Digicode's methodology allowed us to deliver value to our customers even with such an aggressive deadline. This approach permitted Digicode to develop a product that, by the time it had to be shown at the Chilliventa International Exhibition in Nuremberg, Germany, BOSCH had not only a prototype but they had a working solution that supported all of the core functionality.
Outcomes
The timely and effective presentation of a new complex solution that included fully interconnected working hardware and software allowed BOSCH to show its future customers that they were taking its new line of business seriously. It also allowed them to maintain its image as an industry leader in progress and innovations. Besides, BOSCH could increase the value of their latest investment and develop a whole new set of smart accessories that will eventually be used in conjunction with this new solution.
Even market leaders with vast internal resources recognized the value of a vendor with extensive experience delivering highly complex custom solutions. Allowing Digicode to focus on the software aspect of the solution, gave BOSCH's team of experts the time to focus on their strengths.
As a result, a modern and impressive solution was delivered on time, within budget, and with a complete set of essential features without sacrificing product quality.